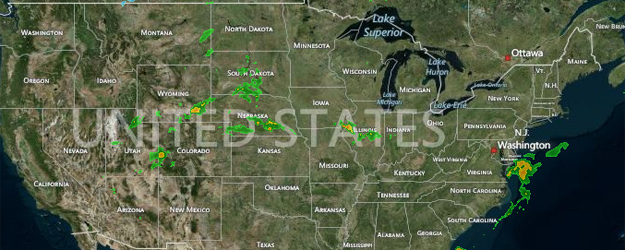 A high-pressure system will settle across the northern and central Plains and the Midwest, resulting in very cool weather this week, according to USDA's agricultural weather highlights.

AgDay Meteorologist Mike Hoffman says as this system crosses the country, cold temperatures and rain will result. "There is a storm system in the middle of the country," he says. 'It will continue to move eastward and cool weather will follow. We could see temperatures go below freezing in some of the Northern Plains later this week."
Watch AgDay's weather forecast for Sept. 9:

Widespread freezes can be expected on the northern High Plains on September 11-12, followed by frost and patchy, light freezes in the upper Midwest on September 12-13, according to USDA.
Midwestern corn and soybeans lie outside of the area expected to experience a growing season-ending freeze. By week's end, cool air will engulf most areas east of the Rockies, while heat will build in the West. In advance of a cold front, rainfall could reach 1 to 3 inches across the northern and central Plains and Midwest.
The National Weather Service's 6- to 10-day outlook for September 14-18 calls for below-normal temperatures in most areas east of a line from the southern Rockies to the upper Midwest. Meanwhile, below-normal rainfall from the Pacific Northwest to the Midwest and Mid-South will contrast with wetter-than-normal conditions along the Atlantic Seaboard and across southern portions of the Rockies and High Plains.
 
Regional Weather Outlooks
In the West, widely scattered showers stretch from the Southwest to the central Rockies. Meanwhile, winter wheat seeding is underway in the Northwest, paced by Washington (19% planted on September 7). Elsewhere, California led the nation with 75% of its rangeland and pastures rated in very poor to poor condition on September 7, followed by Oregon (45%) and New Mexico (44%).
On the Plains, markedly cooler air is arriving in Montana and the Dakotas, accompanied by a few rain showers. This morning's temperatures fell below 40°F in central Montana. Meanwhile, late-season heat prevails from Kansas southward, where today's temperatures will approach 100°F in a few spots. By September 7, winter wheat planting was underway in all seven of the Plains' production states, led by Nebraska (11% planted).
In the Corn Belt, late-season warmth prevails in most areas in advance of a strong cold front. However, cooler air has begun to overspread the upper Midwest, preceded by some thunderstorms. On September 7, corn dented was 12 percentage points behind the 5-year average pace in Michigan (45% dented) and Wisconsin (41%), and 19 points behind average in North Dakota (37% dented).
In the South, showers linger from Florida to the southern Mid-Atlantic Coast. Elsewhere, very warm, dry weather remains favorable for fieldwork, including corn, sorghum, and rice harvesting.
---
Related story: First Frost May Already Be Headed Your Way
Check your forecast: View your weather conditions down to the field-level with AgWeb's Pinpoint Weather
---
Read and watch more Top Producer Power Hour news and videos.