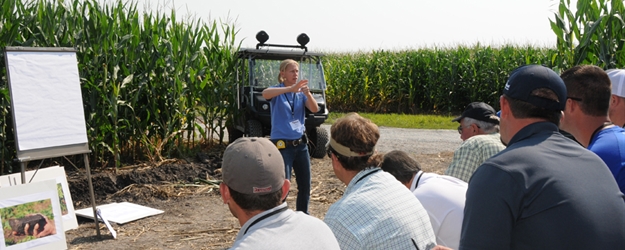 Missy Bauer gives her top tips for nitrogen management to maximize yields.
This year, the biggest limiting factor for yields may have been something in farmers' control—nitrogen.

"We can't control the weather, but we can control nitrogen," says Missy Bauer, Farm Journal associate field agronomist. "And this year, I have big concerns for this crop because of nitrogen. Remember, we get 5 bu. for every kernel in length. 10 kernels in length aborted—that's 50 bu. And it's common to see yield losses way above 5 bu. because a farmer missed the target on his nitrogen program."

Bauer explains that nitrogen has a huge impact on yield during the first half of the crop's growth and on the last half as well.

"To reach maximum yields, farmers should focus on the full process of nitrogen management and the nitrogen cycle," Bauer says. "This includes how the crop uses nitrogen and the risks for nitrogen loss."

On the front end of the crop year, Bauer encourages farmers to review the carbon penalty and how nitrogen is immobilized. Nitrogen is immobilized when it's not available to the plant because it's breaking down residue. As soil temperatures rise, farmers should be aware of the demands on their nitrogen supply.

"We know it takes more nitrogen to break down corn residue v. soybean residue," she says. "Farmers should consider their nitrogen supply upfront to fuel the soil microbes and aid in decomposition if they are in northern areas. But in the south for example, farmers may want to slow decomposition to not lose all their ground cover."

Through mineralization, the soil will naturally produce nitrogen once the soil microbes are active, which in Bauer's area of the eastern Corn Belt, is typically June.

Timing and placement play critical roles in farmer's nitrogen plan.

For example, if nitrogen is broadcast applied in the fall or early spring it can help breakdown residue, feed microbes and reduce immobilization.

A pre-plant broadcast application may need to be paired with a stabilizer or inhibitor based on the product and environment.

When nitrogen is applied with the planter, it can be applied with various placements, but anytime it's banded it will be a more efficient placement for plant uptake.

Same goes for sidedress applications at V6 or late season, and banded applications are efficient placements.

"For our customers, we apply nitrogen at least four times a year," Bauer says. "It's the same total amount as we'd apply traditionally, but it's divided by timing and placement for maximum impact."

And during the season, Bauer says a multi-pronged approach should be paired with monitoring the environmental risks for loss due to weather.

Nitrogen is lost through voliatization, denifitriction and leaching.

"Farmers can use many tools to monitor loss and identify nitrogen deficiencies in their crop," Bauer says.

These include: weather data, soil nitrate and ammonium sampling, tissue sampling, ID deficiency, thermal imagery and NDVI mapping, yield maps and test plots.

"Depending on your soils, what is a big enough rain to give you deeper consideration of its impact on your nitrogen," Bauer questions. "Farmers should seek out the information about their farms to help them better manage nitrogen."
Thank you to the Corn College Sponsors: 
AgriGold, BASF, Chevrolet, Cover Crop Solutions, FMC, Great Plains Mfg., Precision Planting, SFP, Top Third, Yetter Mfg