Materials Needed: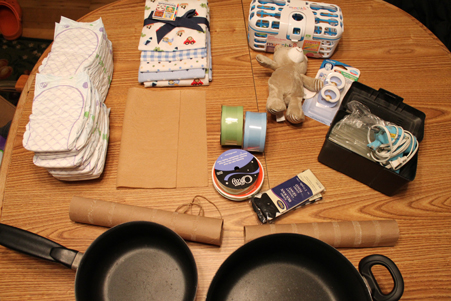 About 100 diapers (used Size 1 for this project)
Pack of 4 Receiving blankets
Munchkin dish washer basket
Pacifier
Stuffed animal
Ribbon and rick rack
Felt
Cotton balls or pom poms
Yellow marker
Large rubberbands
Two paper towel tubes
Scotch tape
Straight pins
Hot glue and hot glue gun
Two sizes of cooking pots
Clean kitchen towels (only used in the process, not the final product)
Steps:
1)

     
Gather all supplies
2)

     
Depending on the size of your pot, put folded kitchen towels on the bottom to ensure 1" of the diaper wheel will be above the rim of the pot.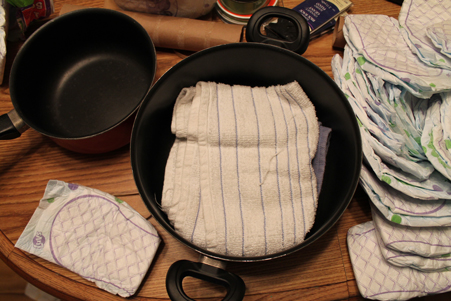 3)

     
With the largest pot for the two larger tires, lay the diapers on their side, and position the diapers inside the pot in a spiral pattern.  Keep packing in diapers until it is tight. Space the diapers about an 1" between its neighbor to get them uniform and leave a hole in the middle.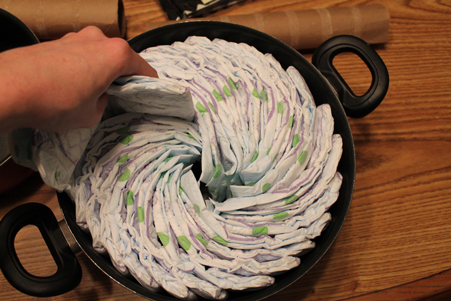 4)

     
Insert the paper towel tube and then secure everything with a rubberband on the outside.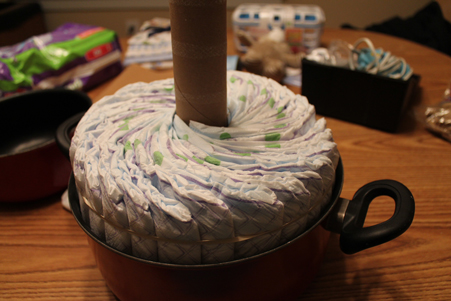 5)

     
Remove from pot, and repeat step 3 for the second larger tire.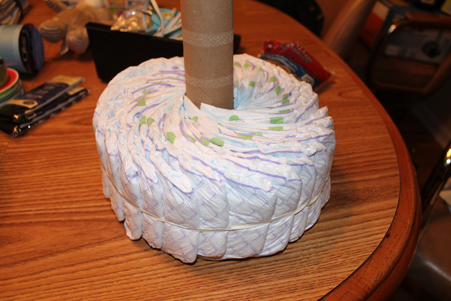 6)

     
And then connect the two diaper tires with the paper towel tube.
7)

     
With the smaller pot, repeat steps 2 and 3, twice, for two smaller tires.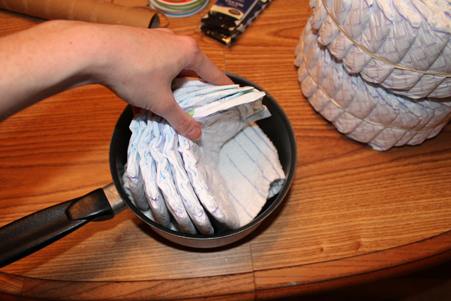 8)

     
Wrap the Munchkin dish washer basket with one of the receiving blankets. Secure with straight pins.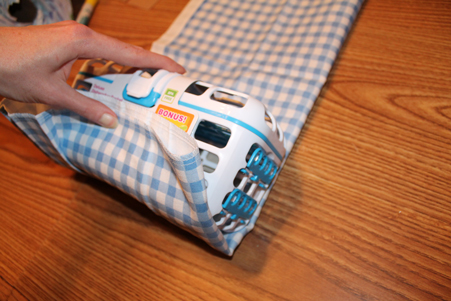 9)

     
Make headlights using yellow pom poms or cotton balls colored with a marker. Gently push inbetween the receiving blanket and basket so they are secure.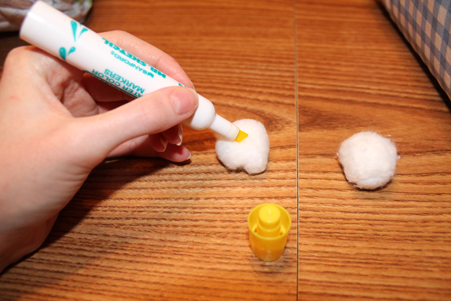 10)

  
Make small roll with a square of felt and secure with hot glue—this will be your exhaust pipe. You can put a cotton ball at the top to look like smoke. Secure to the tractor body with straight pins.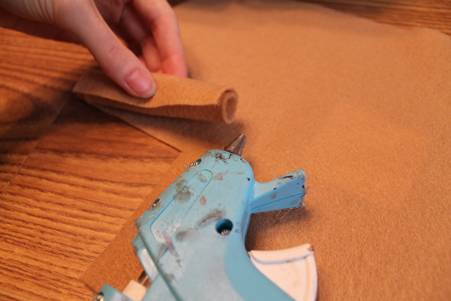 11)

  
Wrap the wheels with ribbon, rick rack, or any other decorations.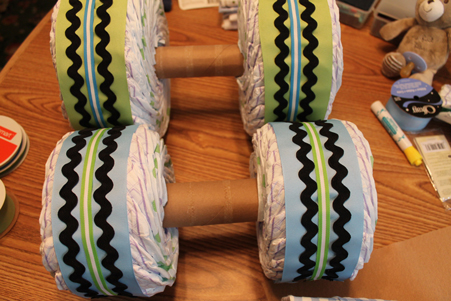 12)

  
Wrap the back axle with the remaining receiving blankets.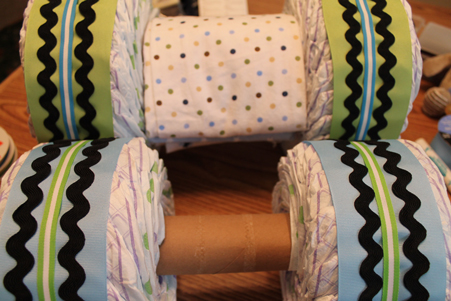 13)

  
You'll do final assembly of the diaper cake at your event, but for now, arrange the wheels and the body of the "tractor" to ensure everything it all fits together.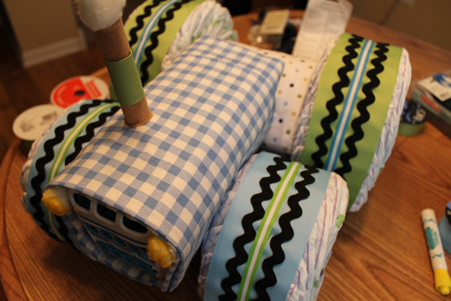 14)

  
For the tractor seat, cut the felt into an arched shape, tape to an extra diaper, and then wrap with ribbon—hot glue to secure.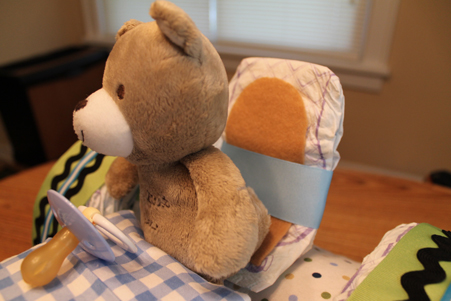 15)

  
Once you are at the party, assemble all the parts, place the tractor seat on the back axle with the stuffed animal on top to secure it down. Place the pacifier in front of the stuffed animal for its "steering wheel"