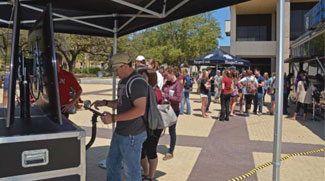 Spring tour contacted more than 34,000 students
We all know it is not easy to talk to people outside of agriculture about who we are and what we do every day. But after four semesters on the road—and 48 campus visits—there is no doubt Farmers Feeding the World's HungerU Tour is resonating and building bridges. The spring tour connected with more than 34,000 college students and 5,000 NASCAR fans.  

"It's our crew that makes HungerU so impactful," says Margie Alsbrook, director of operations, Farmers Feeding the World. "They are passionate about agriculture, and as college students or recent graduates, they know how to talk to their peers."

Each semester, the HungerU crew travels more than 7,000 miles to promote agriculture's contributions to solving the global hunger crisis. The spring tour launched in Auburn, Ala., and visited 17 locations before concluding in Kansas and making a special visit to the Kansas Motor Speedway. At each stop, visitors took part in the fun HungerU Challenge.  

"The HungerU Challenge is an interactive learning experience that allows students and the general public to demonstrate their knowledge about agriculture, food issues and hunger causes," Alsbrook explains. "For each person who completes the challenge, the cost of a meal is donated to one of our non-profit hunger partners."

This fall, the tour heads out west before looping back to Louisville, Ky., for the National FFA Convention. 

The primary supporters for the HungerU Tour include DuPont Crop Protection, the Bill & Melinda Gates Foundation and SFP.

You can follow the HungerU crew on their journeys via Facebook, Twitter, Instagram and Tumblr.
See below for Fall tour schedule and dates.