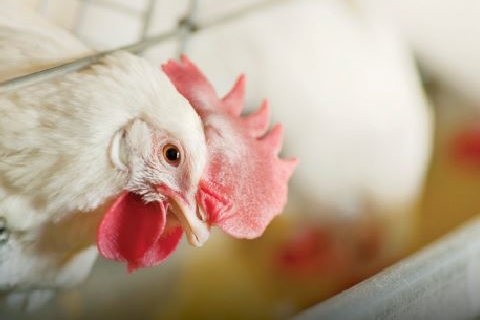 Freight trains aren't getting food to chickens fast enough, sending prices for livestock feed made from soybeans toward the biggest monthly gain in 40 years.
Soybean-meal futures have jumped 35 percent this month as meat prices close to record highs spur feed demand and shipping delays tighten supplies from Midwest processors. Weekly train speeds fell last week to the lowest since April 2010 while waiting times at terminals rose to the highest since July, data from the Association of America Railroads show.
Deliveries slowed as increased loads of everything from crude oil to grains clog rails, frustrating farmers trying to feed herds amid near-record prices for wholesale chicken and beef. As of Oct. 16, U.S. sales of soybean meal for shipment by Sept. 30 rose 61 percent from a year earlier to 6.245 million metric tons, the most ever for the date, U.S. Department of Agriculture data show.
Rising meat prices "put very positive margins into every consumer of soybean meal, boosting demand," Jason Sagebiel, a regional director for grain, oilseeds and renewable fuels for INTL FCStone in West Des Moines, Iowa, said in a telephone interview. "Some producers had contracts in place that they are not getting because of the rail delays. It's been pure panic the last three days."
Soybean-meal futures for December delivery jumped 5.9 percent yesterday to close at $397.20 for 2,000 pounds on the Chicago Board of Trade. Prices touched $408.50 today, the highest for the most-active contract since June 10. The 35 percent gain this month is the biggest since July 1974.
Record Margins
The U.S. will produce 38.04 billion pounds of chicken this year, 1.6 percent more than in 2013, USDA data show. Output will climb 2.9 percent next year. Americans are eating more chicken as a cheaper alternative to beef.
Estimated processing margins for soybean crushers including Archer-Daniels-Midland Co. and Bunge Ltd. rose to a record $2.0675 a bushel, boosting demand for soybeans, according to Gregg Hunt, a market analyst and broker at Archer Financial Services Inc. in Chicago.
Soybeans for January delivery jumped 3.3 percent to $10.49 a bushel yesterday, capping the first three-day gain since June 23. The price reached $10.5925 today, the highest since Aug. 18.
While U.S. farmers are harvesting record corn and soybean crops this year, rail shipments of grain were 21,838 carloads in the week ended Oct. 18, down more than 2 percent from the same time last year, according to the Association of American Railroads.
Shipping fees for barges moving grain from St. Louis to New Orleans on the Mississippi River jumped 40 percent in the past year as rising exports compete with oil, coal and chemicals for limited space.
Corn for December delivery rose 2.9 percent to $3.7525 a bushel yesterday, the biggest increase since Oct. 14. Futures extended their gain to $3.7925 today, the highest since Aug. 18.