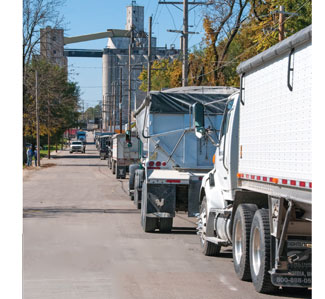 When opportunity knocks, don't be afraid to answer   
While the logjams leading up to the elevator have died down, the fanfare over the grain sitting tight in storage will echo for months to come. 

"At this point, farmers are more worried about what's in the bin than what's not in the ground," says Farm Journal Economist Bob Utterback. When it comes to pricing 2015 crops, he thinks most farmers will hold out another six or seven months. 

The reality of a slow start to planting and again at harvest, with the usual obstacles in between, are behind us for now, and the tail end of 2014 is in sight. Knowing operating margins will be tight in 2015, Brian Grete, editor of Pro Farmer, recommends producers: 
be ready to make aggressive sales when prices reach or surpass your breakeven point.
focus on per-acre revenue instead of flat price. 
build a better price with futures and options, knowing cash sales below desired levels are likely.
focus futures/options positions on "scalping" some money out of the market instead of major trending moves because the price outlook is not bullish. To build a desired price, it might require being out of positions multiple times instead of establishing a position and holding it for awhile.  
use on-farm storage to hold grain for the best pricing opportunity. If there's "carry" (higher price for later delivery that fully pays for storage each month) in the market, store the grain to capture the higher price. If there isn't carry, the market is not paying to store the grain. In the latter case, market grain instead of storing it and then manage risk on the board. 
After the price swings in 2014, Utterback says no matter how convinced a farmer is of his fundamental and technical positions, he has to have a back door if proven wrong. "You don't want to go broke," he says.

While the questions seem to overwhelm the answers right now, some farmers will come out on top this year. "For those who pre-sold corn and soybeans, 2014 will be a good year," says Moe Russell, risk management columnist for Farm Journal. "Plus, the added income from crop insurance, due to the price drop, will be huge—probably $100 per acre in many cases—for those who had the revenue option." 

That said, 2015 will be a challenge. "Cash flows for cash grain operations just do not work," he cautions. At $4.20 corn and $9.75 soybeans, profits are very low and, in some cases, negative.

"We have been dealing with cycles forever and will continue to have to manage through cycles," Russell says.
"Hunker down and be positive. Look under every rock for an opportunity."
---