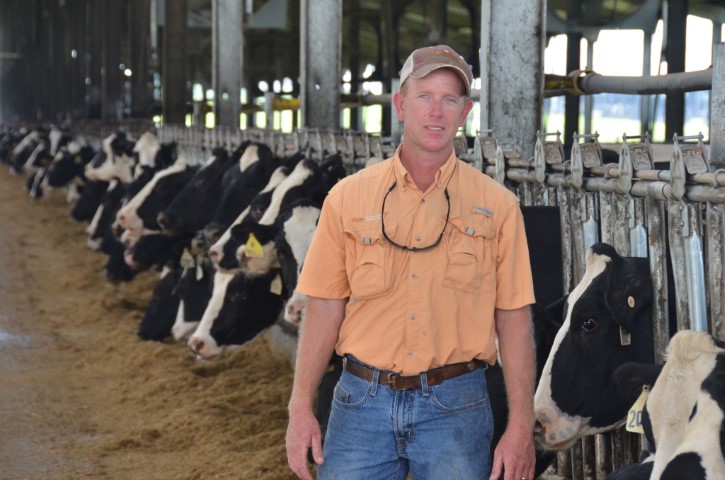 High winds, torrential downpours and hot, humid air—it all matters when building a dairy in Florida
The threat of tropical storms and hurricane force winds is just a part of doing business at Larson Dairy Inc., near Okeechobee, Fla.

When Travis Larson, co-owner, decided to construct a new parlor to replace the existing unit that was more than 25 years old, he wanted to make sure it could last as long with fewer headaches.

"Our existing parlor that we are milking in now is just wore out. It has been wore out for about five years," Larson says. "With bad milk prices and high feed costs, we've just put it off and patched, but we're done patching now."

Florida's humid climate has decayed Larson's parlor because it was constructed with galvanized metal, limiting the facility's usefulness to about 15 years. But the timing hasn't been right in the past decade to expand. They started planning a new parlor in 2008, but then the economic landscape changed.
The new facility will increase the size of the parlor, allowing for future herd expansion, while also improving cow comfort and employee safety.  
---
"We were in a pretty good economic time for the dairy industry in 2008. Then all of a sudden 2009 hit, and we just slammed the breaks," he says of expansion plans.

When milk prices picked back up in summer 2013, he dusted off the plans from 2008 and started to lay the groundwork for an expansion he hopes will extend the third-generation operation into the fourth generation. Larson milks 2,200 cows at the dairy he manages, while his brother runs the same number of cows at a second dairy down the road. His father and grandfather are actively involved as well.
Larson is replacing the current double-32 parallel with a new double-40 parallel, allowing the facility to increase capacity—possibly up to 3,000 cows.

To start the idea process, Larson toured a dairy in southern Georgia with engineer Jake Martin. After the visit, Martin drew up plans for the parlor and offered helpful insight on elevations, cooling and foot baths.

During construction the building crew looked at the anchor bolt design and noticed a major upgrade in footer size was needed. A new code in south Florida required the footers to be able to withstand 140 mph wind loads. The change was likely due to the very active hurricane seasons of 2004 and 2005, Larsen adds.

In 2004, his barns were left half tinned after Hurricane Francis and Hurricane Jeanne, which came just two weeks apart. "We milked on generators for 24 days that September and had no fans," he adds. "Hurricanes in August are the wet ones; hurricanes in September are the ones that will blow your house down."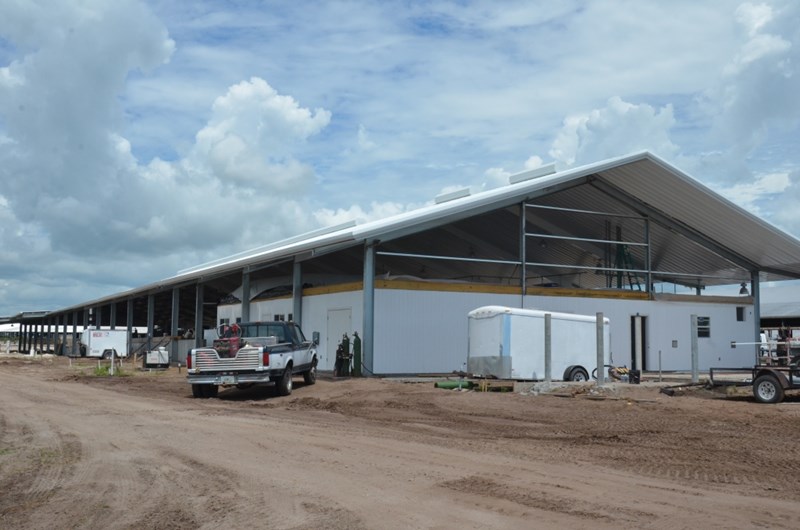 In the center of the parlor's office area is an employee break room that doubles as a safe room. It is surrounded by concrete walls and ceiling.  Impact resistance windows were installed in the surrounding rooms.
---
A 500-kW generator will service the dairy if the electricity goes out. Larson hopes future power outages will be limited since the operation's main power will come from an on-the-ground transformer.

"The main reason it is on the ground is because it is such a big service the pole couldn't hold it," Larson says. The location will be easier for the electric company to service the transformer during times of need, he adds.
The new parlor also offers an opportunity to increase employee safety during inclement weather situations.

"With hurricanes, it's not like they're here and they're gone. They sit here on top of you and just beat you," Larson says. "Francis stood here for 24 hours. We actually had to shut down with both storms when it got that rough. You pull your people in between your milk tanks and huddle down."

In the center of the new parlor's office area, Larson has a safe room that doubles as a break room for employees. The room is completely surrounded by concrete walls, including the ceiling.

Impact resistance windows were installed in the surrounding rooms. If enough force is applied, they will break, but they won't shatter.
Cow comfort was another factor. "Cooling in this barn is going to be way better than in our existing barn. It is a lot higher off the ground and more open. The old-style Florida dairies have concrete walls and very little air movement. They're a hot box in the summer," Larson says.

The new barn will have several rows of fans and offer more space per cow. Stainless steel will be used to help combat the rust problems that occurred with the galvanized parlor. Larson hopes to be finished with construction by October.
Read more about Larson Dairy and their expansion at www.DairyToday.com/hurricane_proof