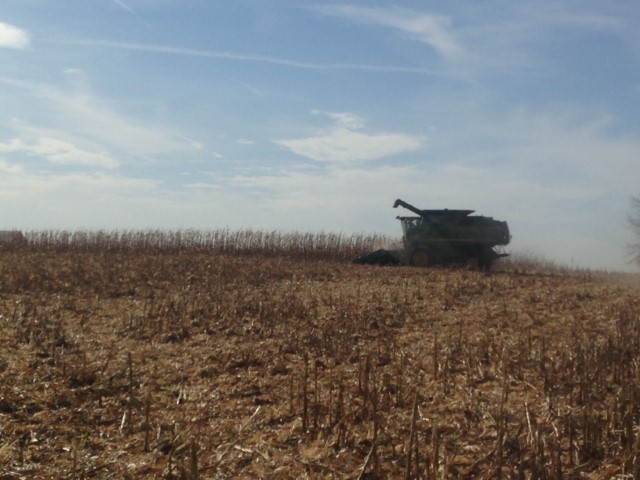 We continue our trek along our I-80 Harvest Tour to eastern Iowa. Some pockets in the state saw more than a month of no rain, creating a great run of harvest weather. Now the area is expected to see a wet week. We got an update on harvest wrap-up before the rain hit.
Jerry Mohr is on the home-stretch finishing up on his last field, but this fall is extra special: the eastern Iowa farmer hit a new milestone.
"This is my 40th harvest," said Mohr, who farms in Clinton County.
It seems this year, he has many reasons to be pleased. Despite a few weather bumps and a hail storm on one of this fields, he's seeing above average yields. "We got some good yields. For me personally, I'm seeing 240 bu. to 250 bu. per acre with corn and 70 bu. per acre with soybeans," said Mohr.
Watch the AgDay story here: 
Much of Eastern Iowa has experienced dry conditions, near record-breaking dry-spells in some areas. Since this interview, they've received some rain. The dry weather did create some low-moisture crops. That's good news with the high test weights.
"Today, I'm running a moisture content of 14.5% on corn. So, there's no drying charge with this. There are farmers down in Scott County in 240 bu. and 250 bu. per acre corn. If they don't have that $50 dollar drying charge, it's real money to them," said Mohr.
Iowa farmer Bob Bowman says the dry weather created some minor stalk and residue issues but it beats fighting mud. "I'm hoping this wind damage is not a factor because that is really tough to harvest," said Bowman, who also farms in Clinton County.
Early growing season rains led Bowman to replant some soybeans due to flooding. It also made applying inputs difficult. "We did not apply fungicide to most of the corn but not all of it," he admitted. "The fields we're standing in, we did not apply and I'm wishing we had."
He hasn't harvested much of his replant or drowned out acres. Of what he has harvested, Bowman says yields are better than he expected. "At this point, I'm saying the bean yields are better than they have been in the past couple of years for me. The corn yields thus far have far exceeded by fears that we were going to be short on yield."
As farmers approach the finish line, harvest shows a sense of price and accomplishment, year after year.
How is your harvest going? See how yields are shaping up on AgWeb's corn and soybean maps or send your photos and observations to AgWeb's Crop Comments section.