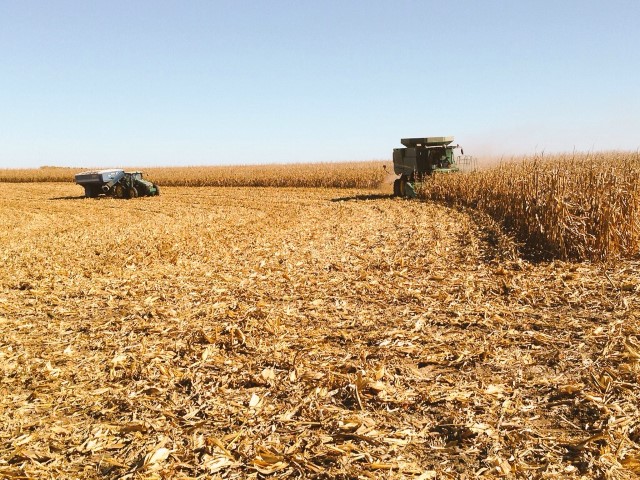 The western Corn Belt is gaining steam. USDA's latest crop progress report shows Nebraska with nearly a 20-point jump on corn, and almost a 15-point jump on soybean harvest in the past week. Both are now near the state's 5-year average.

Soybean cutting was slow-moving two weeks ago in the Cornhusker State.

"We're getting more fog and damp mornings," said Bryon Chvatal of Prague, Neb. "It's been hard on harvest, especially soybeans more than corn."
Since then, the weather has cooperated. Soybean harvest is now close to completion, and results are promising.

Farmers said a lot of dryland corn and soybean yields are matching or surpassing irrigated ground.
"Soybeans have been way above normal, especially with dryland," said Chvatal. "Irrigated ground is probably normal."
"Dryland, if you kept your populations up this year, it's yielding up there with irrigated corn," said Bob Bartek of Ithaca, Neb. "Some of our dryland fields will take off some of the best yields we've ever had on our dryland hill ground."
Farmers believe it could be from a sufficient amount of rainfall all growing season.
"I think it's just a good growing condition where it just produced," said Chvatal. "That's what I'm hearing on dryland corn but soybeans have been phenomenal."
"We received plenty of rain all season here," said Bartek. "We didn't have to irrigate very much at all."
While rains have helped a lot of ground, Bartek said precipitation hurt from flooding.
"Our creek bottoms will be pretty poor this year," said Bartek. "We had to replant a lot of it. Some of the crop is late. There will be some poor crops in low lands and creek bottoms around here."

Farmers are glad the mornings have cleared and harvest is coming to a close.
"Until we hit a wall, I'm not too worried," said Chvatal.
Bartek is expecting an above average crop but not a record in every field. There are some green snap and flooding problems. Some farmers have been docked severely for wet soybeans. He has about a week left on corn. 
I-80 Harvest-Eastern Nebraska