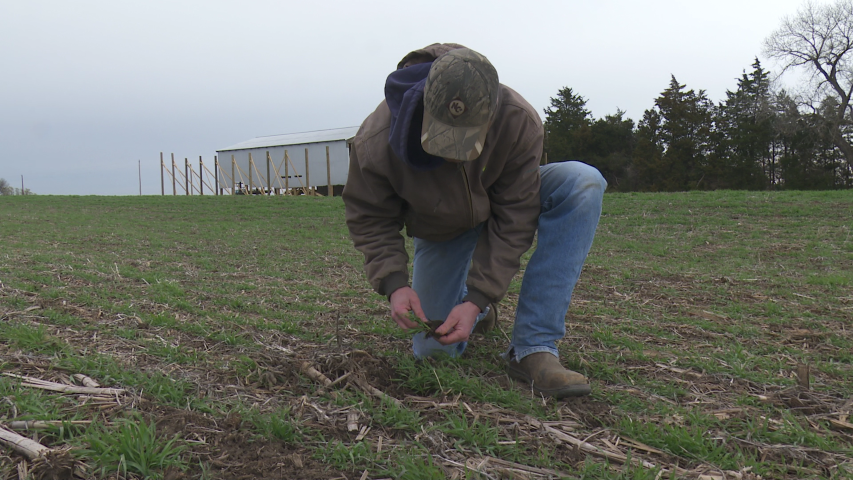 For this week's I-80 Planting Tour for 2016, AgDay headed to the Cornhusker State, where farmers in Eastern Nebraska shared their planting intentions and weather conditions.
It's a new season, but one thought has lingered from 2015: a constant reminder of lackluster grain prices.
"Now, farmers are watching everything they spend and making sure they get a return on their investments," says Bob Bartek, who farms near Ithaca, Neb.
That's what Bartek has been thinking in the cab, but it's also a place he hasn't spent much time yet this year. It's been too windy to spray and too early to plant.
"You can see underneath these stalks here, we have a lot of moisture and a lot of residue left from last year. So, we're going to need warmer temperatures to get the crops in. That's for sure," he says.
Bartek says better temperatures are needed to put the seed in the ground, but the sufficient amount of moisture from December rains and winter snows shouldn't delay him from his targeted mid-April planting date.
"We like to see a lot of moisture this time of year to get the crops off to a good start," he says.
Bartek says many farmers in his area are sticking to their regular rotations. He plans on doing the same on his no-till operation.
"We're a straight corn-on-soybean rotation," he says. "We're not anything much this year at all."
Mother Nature is roaring a half an hour to the Northwest.
"We like the wind," says Bryon Chvatal, who farms near Prague, Neb. "The sun is ever better. If we get the sun and wind, it helps dry it off a little bit."
Chvatal is welcoming the dry-down, even if it may be setting him back in the short term.
"I'm hoping by April 15 that we're planting and I'm done spraying," he says. "Now, I'm a little behind a little bit."
Even though he experienced some sleet last week, he is seeing a good amount of moisture.
"We're not saturated where we can't walk around, but our soil profile is sitting really nice," he says.
Chvatal says he's sticking with his regular corn and soybean rotation for most of his acres, but one of his landlords is switching the crop mix to corn-on-corn. The reason is economical.  
"He sees more income on the corn side of things because he can't get the yield with our soybeans like we can with our corn," he says.
This year, Chvatal says he's glad he diversified in alfalfa and livestock.
"Crop prices kind of soared for a while, and it made me wonder why I have livestock," he syas. "Now, I'm happy I still have it."
Chvatal has another set of eyes helping him with marketing, of which he is grateful.
"That relieves a lot off my shoulders," he says. "I can't watch it all of the time. I would rather do what I do best and go out and farm."
Here's hoping another season brings a plentiful crop, despite those lingering reminders of the markets.
I-80 Planting Tour: Grain Prices Top Of Mind For Eastern Nebraska Farmers