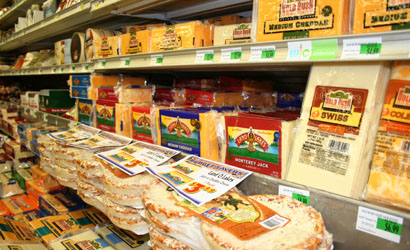 Officials with cheesemaker Glanbia Foods have announced an $82 million expansion of manufacturing plants in south-central Idaho.
The company in a statement on Thursday said the expansion at its headquarters in Twin Falls and a plant in Gooding will add up to 50 new jobs and will meet demand for whey — a byproduct from making cheese.
"The company considered various options and locations for these new activities but ultimately came to the conclusion that Idaho was the right location," said Daragh Maccabee, the company's executive vice president, in a statement. "We have a long track record in Idaho and the support of the State and local communities was instrumental in our choice of Idaho for renewed expansion."
The Times-News reports that the company finalized its decision after the economic advisory council of the Idaho Department of Commerce approved an incentive plan involving payroll and income taxes.
The deal is worth about $1.25 million over 10 years to the company, giving the company a 23 percent reimbursement incentive on payroll and state income taxes.
"It was the final domino to fall into place," said Jan Rogers, executive director of the Southern Idaho Economic Development Organization.
Gooding County also offered a tax exemption on capital investment worth up to $2 million over five years.
"The important thing for Gooding County is that it is not money that currently exists," Maccabee said. "It is incremental value forgone for a period."
He noted that after five years, Glanbia will pay property taxes.
Megan Ronk, chief operations officer of the Idaho Department of Commerce, said Glanbia is the eighth company to use the tax reimbursement incentive since the Legislature passed the program and it took effect July 1.
Glanbia also plans to pay for a 30-megawatt energy substation on Glanbia land at the Gooding County plant.
Glanbia processes daily more than 12 million pounds of milk, about a third of all milk in Idaho.
"This represents Glanbia's continued investment in dairy production, blending and manufacturing capabilities as well as an investment in our quality workforce," said Rogers.