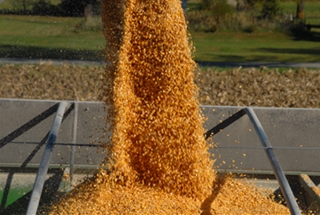 World corn output will beat a November forecast, the International Grains Council said, lifting the estimate an eighth time on improved prospects for South America.
Bigger corn and wheat crops will expand world grain output excluding rice to a record and lift inventories at the end of the season to the highest in about 30 years, the London-based organization wrote in a report today.
Corn futures have dropped 9.7 percent in Chicago in the past 12 months as U.S. growers harvested a record crop and the outlook for production in Brazil and Argentina improved, while wheat futures have dropped 4.4 percent. Cheaper grain has contributed to a drop in international food prices.
"World maize export prices turned lower amid stiff global competition and ample availabilities," the council wrote, using another word for corn.
Farmers will gather 991.9 million metric tons of corn this season, 9.6 million tons more than forecast previously and climbing from 990.7 million tons in 2013-14, the council wrote.
The IGC left its outlook for this season's wheat production little changed, forecasting a crop of 717 million tons from 717.2 million tons in November, rising from 712.7 million tons a year earlier.
Prospects for the 2015-16 winter wheat crop are mostly favorable in the Northern Hemisphere, and world wheat production is "provisionally" forecast to slip 2 percent to 701 million tons next season, the report showed.
Record Production
Total grain production, excluding rice, is forecast to advance to a record 2.002 billion tons from 2 billion tons in 2013-14, according to the IGC, which raised the outlook by 11.8 million tons. Stockpiles may climb more than 7 percent to 432 million tons, the highest since the mid 1980s, the council said.
"Even with a solid rise in consumption, global closing stocks are seen reaching a near 30-year peak," the IGC said.
For corn, the biggest adjustment to the outlook was made for Argentina, with production there now seen at 29.5 million tons, 7 million tons more than in November.
Brazil's corn outlook was lifted by 2 million tons to 77 million tons, while the U.S. corn estimate was cut by 3.9 million tons to 361.1 million tons.
The world soybean outlook was raised by 4 million tons to 312 million tons, predicted to climb from a year-earlier 284 million tons. Stockpiles at the end of this season may climb to 42 million tons from 31 million tons, the council said.
The IGC trimmed the global rice outlook by 1 million tons to 474 million tons.