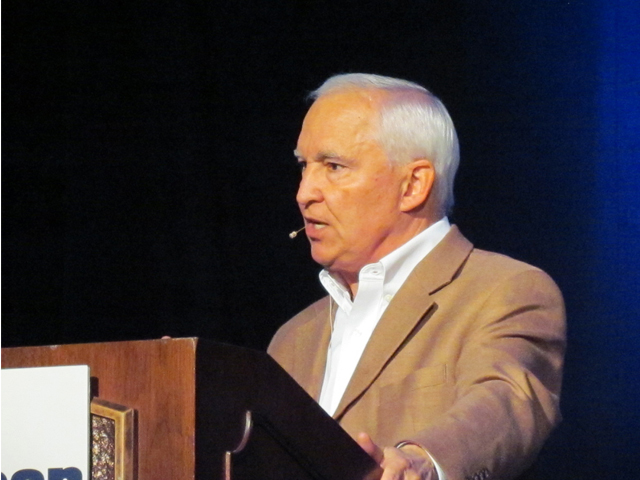 Background: Danny Klinefelter worked at Texas A&M University and the Farm Credit System before returning to A&M after the 1980s financial crisis. He founded The Executive Program for Agricultural Producers (TEPAP). The program has had over 2,500 participants from 45 states, six Canadian
provinces, Argentina, Australia, Brazil, Chile, Mexico, New Zealand, Paraguay and Uruguay.
Education: Bachelor of science, Southern Illinois University; master of science, University of Illinois; Ph.D., University of Illinois
Books every manager should read: Two that stand out are "In Search of Excellence" by Tom Peters and Robert H. Waterman Jr. and "Good To Great," by Jim Collins.
Leaders you admire: They include producers Gregg Halverson, Kip Tom, Kristjan Hebert, Grant Dyck, Jeremy Jack and Lon Frahm.
How did you become an ag economist?
I grew up on a farm in Illinois, so I had a strong relationship with agriculture. I didn't go back to the farm because I have allergies and I have no mechanical abilities whatsoever. I looked at going into ag banking, so I got my bachelor's degree in ag economics and then my master's at the University of Illinois. I didn't want to be a typical academic researcher. I didn't want to sit there and develop models and crank out journal articles. I went into banking for five years. The dean of the night school at one of the community colleges in Illinois got me to teach a class, and I liked it.
I was 27 years old and eligible for a National Science Foundation research fellowship, which had dependency allowances and was tax-free. I thought, "If I'm ever going to go for the Ph.D., let's do it now." After I got that, I came to Texas A&M University.
I was there just about three years, and then the farm financial crisis of the '80s hit. One of the farm credit banks wiped out its entire management team, and so I got an offer to go in, contribute and learn a lot. I spent five years there. When the crisis was over, I got calls from four universities in three months. What they wanted was someone who had been a lender who had the union card—a Ph.D.—and I did. One was from Texas A&M. I enjoyed working there, so I came back.
Why did you opt to serve with Extension rather than in a more traditional professor role?
I liked the idea of Extension, of educating farmers in addition to students in class.
What I found out pretty quickly was that a lot of farmers that went to Extension meetings were very, very traditional. We would talk for an hour and a half, then they would go back home and not do a darn thing different than what they had done before. One of my friends described it this way: Theyblow in, blow off
and blow out.
From my experience in banking, I knew there were farmers in the '80s making money the entire time, even though land values fell in half. But some were plainly better business people and more willing to continually adjust and change as conditions changed.
What I wanted to do was to offer a program to those people. It wasn't that others couldn't attend, but I wanted to be challenged. I wanted to meet the needs of a group that I thought wasn't being addressed by traditional Extension programs, so I started The Executive Program for Agricultural Producers (TEPAP).
I think we have by far the best managers in the world. We have enough people who are continuous learners and innovators that love what they do. We have the best resources to work with. That gives me optimism.
What challenges did you face as you developed the programming for TEPAP?
When I started, I went to all the nongovernmental organizations and government agencies. They told me they couldn't touch it politically. So I picked six industry segments and the two biggest firms in each of these industries. I sent letters and said, "The first one of you who responds, I will take." Within two weeks, I was fully funded. They knew these producers were likely to be survivors because they were better managers.
Then I had a second round of problems. I was going to charge for it, but Extension only charges minimal fees. I also wanted to market the program nationally, and at that time Extension was state-bound. I had to write directors of Extension in every state to mail literature into the state.
My wife, Vicki, knew I was set on this but could also see I was nervous. She said, "It's like you're on pins and needles." The reason was because we had several hundred thousand dollars tied up in contracts for the program, and the university wouldn't sign them. I was signing them personally. If this thing didn't go, we would have been mortgaging Klinefelter Farms.
What have been some of your biggest takeaways from spending time at TEPAP?
The people get as much out of interacting with other farmers like themselves as they do from the speakers. That's where a lot of the learning takes place. I used leading academics—such as Dave Kohl, Mike Boehlje and Neil Harl—people who I considered to be really good and very connected with the industry.
After about 10 years, we had built the program from 60 people per class to 90. We had more applicants than we could take, so they become early registrants for the next year. We continue to change it. When I led the program, I would have a debriefing class separately with no faculty, just me. I would tell producers, "You can say anything you want and criticize." I wanted to get a consensus. Each year, I changed about one to two faculty members, and a new topic got added. Two years ago, I picked Mark Welch from Texas A&M as my successor at TEPAP and Brent Gloy for AAPEX, the TEPAP alumni association. I hope they keep growing.
What does the future of agriculture look like?
We are going to move toward coordinated supply chains with qualified suppliers. Some consumers want certain things, and you've got to prove it to them.
Take Frito-Lay, for example. They had 1,000 growers several years ago and today, they have less than 70. Yet they produce more potatoes than the 1,000. Over 25 years, as somebody quit, didn't perform or lost the contract, Frito-Lay offered the contract to the best people that they had. If they wanted to open a new plant and didn't want to find local growers, they would offer contracts to the best growers they had who were willing to work with them and provided them with consistently high-quality food products.
Food companies want somebody that can prove what they are doing—such as sustainability, organics or non-GMO—and have the technology to say, "Hey, I can do that in real time. I don't need a survey or test fields. We've got proof instantaneously of what we've done, what we've applied and what conditions were like." That's a whole lot more powerful than government regulations. Not all consumers want that, but there's a big enough group that do. Farmers have to meet the needs of the market.
What do farm employees need to be successful?
You need good, hard workers, but you also need the people who know how to operate technology or lead the management team: a human resources director, a chief financial officer, an IT specialist, a chief engineer, a marketing and risk-management specialist. It's industrialized farming, and that's a good thing. There is a growing intolerance for variability. It will continue to go that way. Just because you don't like the way things are going doesn't mean it isn't happening. You have to understand it, adjust to it and adapt to it. Otherwise, you're going to be history.
What are your plans for the future?
I am looking at working with someone else starting a new business venture that relates to what I did at TEPAP and AAPEX. I want to continue working with those people and people like them. It will be probably three to six months before we see if this comes to fruition. I want to do something productive and work with people who are forward-thinking and change oriented.