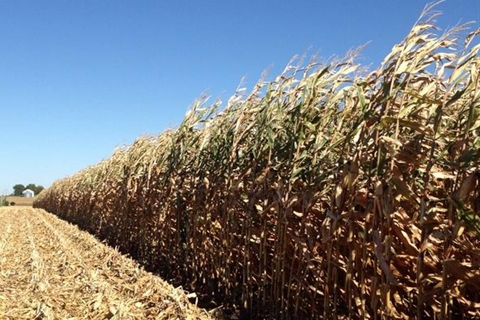 Ever since Luke Holly of Granville, Ill., got his latest farm equipment, he has been using the new technology that came along with it.
Calling it "a convenience," Holly's machines use field mapping data to automate planting in the spring and harvesting in the fall for his many fields from McNabb to Ladd.
"Do you have to have it to farm these days? No, but it makes life for me easier," he said.
Data is put into the machines before planting. This data includes the size of the field, the "variety" (or type of crop being planted), and the "map" of the field (the layout of the rows).
"There's definitely a savings there," Holly said, explaining that the automated planting saves on seed, since it knows just the right amount to dispense. The same principle applies with the sprayer, which prevents over-application of chemicals, he said.
The auto-steering function on the machines helps save on fuel costs as well, he said, since only one pass over the area is needed.
"It's one less thing — kind of like cruise control in a car," Holly said about the auto-steering feature.
Nick Bielema, support specialist at Holland and Sons Inc. in Mendota, said auto-steering has been around since the later 1990s, but the data mapping features are becoming increasingly advanced.
At harvest time, the program takes the same data input from the planting season and measures the yield, so different areas within a single field can be compared.
"At the end of the year, the mapping compiles the yield for each variety across your whole farm," Bielema said. "If the farmer can map what they've done, they give their agronomy person all that information, and they can fertilize it better for next year."
Knowing where the areas of highest and lowest yield are helps influence the farmer manage his investments for the following season.
"It's time and money that they're saving, because they're not spending time where they don't have to and they're not paying a guy to sit there longer than he has to," Bielema said.
One recent development is the wireless transmission of the data to different machines. Bielema said remote monitoring of the machine's activities is possible, which he uses to talk through issues over the phone when farmers call him for support. Supervisors of large operations can remotely monitor multiple machines from a centralized location, he said.
"It's really just keeping up with the times — this is where everything's going," Bielema said. -- RACHEL STELLA, (LaSalle) NewsTribune