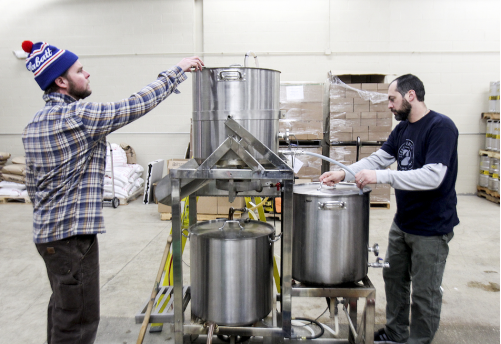 Several microbreweries in suburban Chicago share grain left over from the brewing process with local farmers, who can use it to feed their animals, instead of throwing it away.
Sandy Robertson, a farmer who lives near Sycamore, Ill., receives spent grains from five microbreweries around the Chicago area, including Scorched Earth Brewing in Algonquin. When brewing is complete, workers take the grains out of a kettle and put them into another container for Robertson to pick up for free.
"We've learned a lot about sustainability and conservation. You have to do as much as you can with what you have and be resourceful," said Mike Dallas, owner of Scorched Earth. "Why dump it out when it can be used for something?"
About 1,000 pounds of grain is used per batch, but the amount varies depending on the style of beer, the Northwest Herald reported.
Robertson said she started using spent grains to feed her cattle about two years ago, after corn prices got too high. Now she can easily use 3,000 pounds of spent grains per day, she said.
Crystal Lake Brewing puts its leftover wet grains into a 44-gallon garbage can to await pickup not from garbage collectors, but from interested farmers.
"We assume to not throw that away," co-owner John O'Fallon added. "It has a lot of value for farmers."
Shannon DeVaul, who operates a farm near Woodstock, calls the brewery each week to see when the spent grains will be available. She usually picks up 10 to 12 garbage bins, weighing about 80 pounds apiece, to feed chickens and ducks.
DeVaul also uses the spent grains as compost material and mulch.
"I've been green and growing organic since way before it was cool," she said.