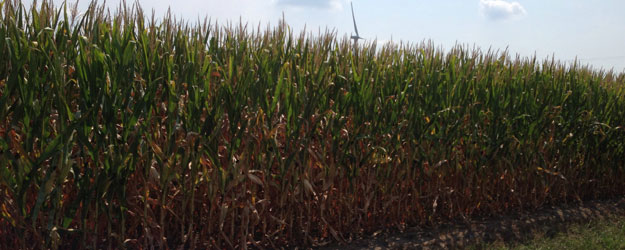 Although yield estimates exceeded three-year averages, scouts encountered lots of variability in Illinois fields.
Though corn yields and soybean pod counts on the Illinois leg of the Pro Farmer Crop Tour exceeded three-year averages, scouts were left unimpressed with what they encountered.
Prior to the tour, scouts heard stories of impressive yields on Illinois farms. While they found some beautiful corn fields on pace to yield more than 200 bu. per acre, they tromped through many others that will be lucky to do half that level.
"We saw a ton of variability," said Iowa farmer Chris Barron, who expected to see much better crops in Illinois than in Iowa. Instead, he saw lots of fields with yields in 170s and 180s, instead of the 200s. "We even saw one that will yield 104, which was kind of shocking."
Listen to Barron's audio report from Illinois:
Scouts on the tour stop along roads where they can conveniently walk into both corn and soybean fields "We saw some crazy things," said Minnesota's Dick Overby. "Right across the road from here we saw the worst corn field and best soybean field, right next to each other."
"The variability is absolutely off the charts," said Brian Grete, senior market analyst for Pro Farmer, adding that "corn on corn absolutely did not perform."
Listen to a full audio report from Brian Grete:
Despite the reports of extreme variability, corn and soybean crops in Illinois look like they will beat three-year trendlines. ProFarmer reported a yield estimate of 170 bu/per acre in corn, 15.3% above the three-year average of 148. Soybean pod counts, at 1,116 in a 3x3 square, were up 18.2% from last year.
Even within fields, scouts reported highly variable yields. Crops looked great from the road, but once they ventured 35 feet inside to take samples a different story emerged. Plants were suffering from water and nitrogen deficiencies.
Mark Bernard, a consulting agronomist to the Pro Farmer tour, found huge cracks in the ground due to a lack of water. Persistent dryness threatens to undermine corn and soybean yields in Illinois. Tipback problems plagued most corn fields.
If Illinois doesn't get rain within the next 10 days, Bernard said, "We could take 5 to 10 percent off this crop."
On the other hand, scouts reported few problems with insects or diseases.
For More Information
See full coverage of the 2013 Pro Farmer Midwest Crop Tour, hosted by Pro Farmer.

DuPont Pioneer has been the Tour's lead sponsor since 2008. Other sponsors include RCIS, Chevy Truck, DuPont Crop Protection, GEOSYS, HTS Ag, Farm Credit Services of America and Montag Manufacturing.