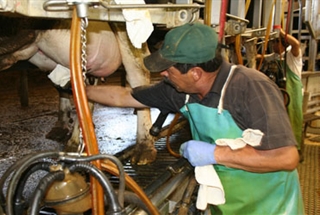 In Washington, immigration reform may be a political issue, but in the agricultural industry, it offers an answer to the challenge of finding legal labor to work on dairies, livestock operations, and fruit and vegetable farms.
In the past 15 years, more than half of the hired workers on farms were unauthorized migrant workers, according to the U.S. Department of Labor's National Workers Survey. With a combination of stalled immigration reform debate in Congress, increased border control and an improved Mexican economy, the U.S. farm labor supply has been dwindling.
In states like California, crop producers are facing 71% labor shortages, according to Kristi Boswell, director of congressional relations for the American Farm Bureau Federation. It's a problem for agriculture, because if U.S. farmers can't keep up with demand, agricultural production will shift to other countries, Boswell continues.
"If nothing changes we're going to continue to see more shortages and more instability in the markets," Boswell says. "We can't sustain in that environment, and we will get to the point where instead of importing our labor, we're importing our food."
This comes back to the question of immigration reform, which is currently at a stalemate in divided Congress. In the meantime, the American Farm Bureau Federation has proposed a number of strategies that address the connected issues of immigration and the needed agricultural labor force.
First, current workers in the U.S. must be protected, says Bob Stallman, president of the American Farm Bureau Federation. He says this can be done through what he calls a "blue card" program.  
"This is a separate program to allow workers--if they can prove they've worked in agriculture--to adjust their status and continue to work," Stallman says.
Such a status would allow these agricultural workers to move forward and apply for a green card while still working in the industry, but this "blue card" would not be a necessary pathway to citizenship.
Other options might be revising the current agricultural guest worker program known as H-2A, which only supplies 4% of the needed workforce in the agriculture industry, says Chalmers Carr, president of Titan Farms in South Carolina.
Stallman of the American Farm Bureau Federation suggests moving to a two-part approach:
A visa for at-will employees. "Those are employees that could come across the border with a proper visa and then work wherever the work is," Stallman says, allowing them to shift between farms in need of help.
A contract worker program resembling the existing H-2A program, but more streamlined in terms of paperwork and requirements. "One of the major problems with the H-2A program was the bureaucratic nightmare and regulatory process to get approval for workers to come in when you needed them," explains Stallman. If workers aren't cleared when it's time to go into the field, farmers might end up losing their crops.
Those same seasonal limitations also affect livestock producers, who need workers year-round. Certain farms, such as dairies, require someone there at all times, and the current system doesn't allow for this. With the contract worker proposal, these needs would be met, Stallman notes. However, our current policy just isn't going to solve this problem.
Stallman isn't the only one who thinks the current immigration situation is holding the U.S. back.
 "We would be a better country if we got a rational immigration policy," says Daniel Rothenberg, professor of law practice at Arizona State University. Unfortunately, he doesn't expect this to happen anytime soon, given the political challenges involved.
Why don't farmers just hire American citizens to do these jobs instead? Many have tried, Stallman says, but have seen little long-term success, given the demands of these jobs.
"If history is any indicator, we won't be able to find U.S. workers to do these jobs," Stallman says.
What do you think should (or could) be done about the challenge of farm worker labor shortages? Would immigration reform help? Let us know in the comments.