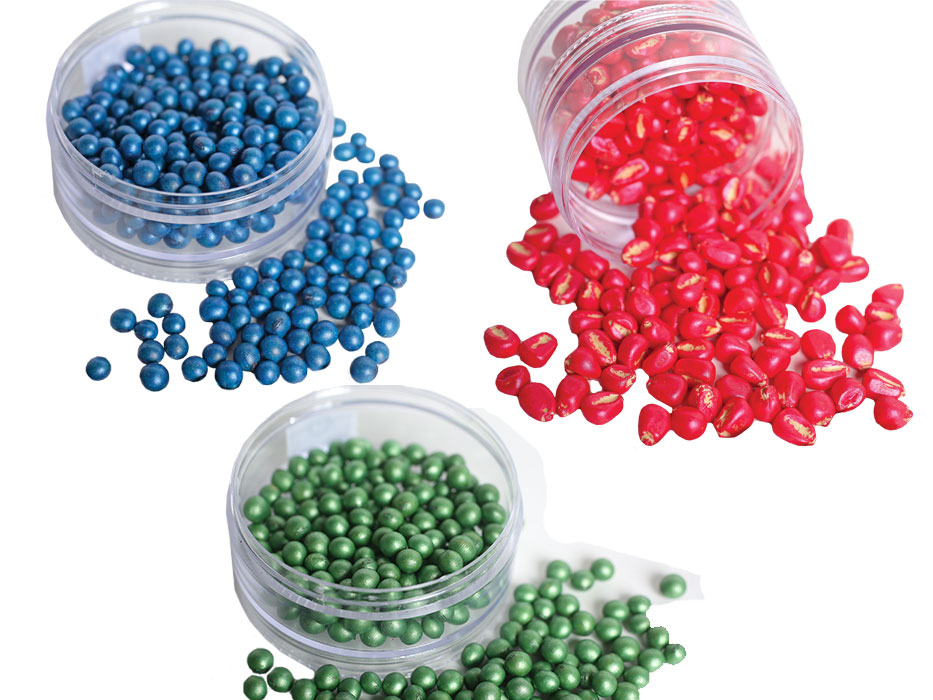 Seeds are the lifeblood of your livelihood. If they don't emerge or make it much past emergence it could mean trouble in the form of a replant or even lower yields. Consider what new seed treatments could mean on your farm to protect your investment.
Bayer, BASF and Incotec are each introducing new seed treatments with different benefits. Bayer offers soil enhancements for better fertilizer uptake, BASF offers longer disease protection and Incotec offers additional ease-of-planting as well as emergence benefits.
Bayer is introducing Poncho Votivo 2.0 to select customers in 2018. This year's launch is through a partnership with Beck's Hybrids. The company has supplies for up to 1 million acres for the introductory launch, with the full commercial launch expected in 2019.
"It's the Poncho Votivo product everyone trusts, and the 2.0 adds a second complementary bacterium to the product," explains Jennifer
Riggs, Bayer seedgrowth product development manager.
The new seed treatment uses Flexiboost technology by Bayer. The bacteria deliver proteins and enzymes (specifically endoglucanase) to the soil, which breaks crop residue into sugar. The more active the microbials, the more effectively they use organic matter and put nutrients back into the root environment.
"It lasts through the critical growing period, 60 to 90 days," Riggs says.
Stamina F4 cereals fungicide seed treatment by BASF recently gained EPA registration. This wheat seed treatment is the first time the company has brought the Xemium fungicide as a seed treatment into a cereal crop.
"It features longer term residual disease control because it translocates so well throughout the plant," says Justin Clark, BASF technical marketing manager. "Adding Xemium gives growers a better solution against fusarium disease complexes."
Stamina F4 combines Xemium brand fungicides and F500 technologies. It offers cold tolerance, emergence and disease protection against Rhizoctonia, Fusarium and Pythium.
The company says the long-term control helps farmers lose fewer plants to disease early on; more wheat plants per acre directly translates to yield. In addition, even emergence and plant development can be beneficial in late-season decisions such as fungicide because all plants will need treatment at the same time instead of over a wide window of maturities.
Stamina F4 is a ready-to-use formulation for commercial or on-farm application. BASF is currently seeking state registrations.
Incotec says their new slick coating will help ease clumping, sticking and other issues at planting.
"L-650 delivers significant benefits in handling, planting and low dust off," says Terry Meyer, research manager for North and South America at Incotec. "L-650 can be used in the application of pesticides and nutrients to corn, soybeans, wheat, edible beans, popcorn, rice, sweet corn, garbanzo beans and more."
"Measurements show that L-650 treated seeds rival untreated seeds, flowing as fast, and in many cases faster, than untreated seeds," Meyer adds. "This all ties into better singulation and plantability."
Incotec provides L-650 and other products to seed companies and retailers, though specific details are confidential. If L-650 is offered in your area, the company says you can expect the following benefits:
Provides better dry time for faster seed coating.
Reduced tack and clumping.
Improved wet and dry flow times.
Minimized dust (40% to 60% versus standard).
Enhanced abrasion resistance.
Germination quality retained for up to 24 months and possibly longer. Evaluation is still underway.
The product is relatively new to corn, entering its second season, and in its third season with soybeans and wheat. The company provided details about L-650 at the 2017 Exceed the Seed Conference, where Farm Journal gained the exclusive details.
As you prepare for the 2018 season, think about how to protect your crops. Do you need to invest more time and research into seed treatments? What can seed treatments mean for yields and your bottom line? Be strategic about your decision before jumping in with both feet.