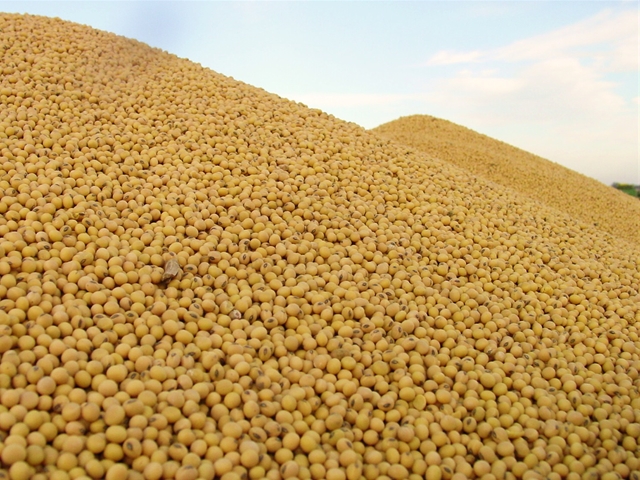 In Argentina, where soybeans help drive the economy, a battle over export taxes has farmers defending their fields at night amid accusations that they're hoarding crops to undermine the government.
At issue is the growing use of silo bags, sausage-shaped sacks 12 feet (3.7 meters) in diameter and 200 feet long that can hold 12,000 bushels of grain or oilseeds for three years. Some farmers say they only use the bags to store crops until they can get them to market, while others see them as type of savings account. The government asserts the farmers are stashing crops to avoid paying a controversial 35 percent export tax that supports a third of government spending.
The verbal sparring, which comes as President Cristina Fernandez de Kirchner faces October elections, has grown more virulent over the last few months. Now, according to the farmers, it's escalated into overnight attacks that culminate in silo bags being slit open.
"Using silo bags isn't a choice, it's a necessity," Gabriel De Rademaker, vice president of the Argentine Rural Confederation, said while standing in a soybean field in Oliva, a farming community of 12,000 people that's the epicenter of the attacks. "The government controls export licenses of some grains and the lack of infrastructure means sometimes you're waiting weeks for trucks to come pick up the crops."
Argentina is the world's largest exporter of soybean oil and derivatives, used around the world for soy milk, tofu, animal feed and industrial products.
While farmers say they don't know who's behind the silo bag attacks on their crops, it's clear to them the conflict has political overtones. Graffiti found scrawled on a wall in Oliva, which sits north of Buenos Aires, read: "Be a patriot, destroy a silo bag."
'Hoarders, Speculators'
Lucas Lingua, an Oliva farmer who said his silo bags have been attacked, said storing crops lets him protect his assets, in the currency he knows best.
"The hate has been sown from above with a message that makes us sound like hoarders, egotistic and greedy speculators, when a lot of times we're saving grains to be able to buy a tractor down the line," Lingua said in an interview at Oliva's Rural Society building. "All of this is clearly pressure to try and make us sell our merchandise."
There were 30 attacks on silo bags last year, according to the Argentine newspaper La Nacion.
President Fernandez has clashed with farmers since gaining office in 2007 when she moved to raise the export tax to 45 percent. That led to 129 days of strikes, road blocks and food shortages across the country, a conflict that eventually ended in July 2008 when her vice president Julio Cobos voted against the increase.
Presidential Elections
Farmers say the current 35 percent export tax makes their operations unprofitable, and gives them an incentive to wait until after the elections, when the prospect of a new government means there may be new trade policies and a better exchange rate.
"Farmers are waiting for signals from the presidential candidates to decide what to plant in June to September or whether they will slaughter cows depending on the policies," De Rademaker said.
Opposition presidential candidates Mauricio Macri and Sergio Massa have said they'll reduce export taxes to promote investment. Daniel Scioli, the candidate closest to the current administration, hasn't commented on farm policies.
Last year, Argentine farmers used silo bags to save a record 10 million tons. They're storing more crops as the price of soybean futures tumbled 13 percent in the past year, making it harder for the country to rebuild reserves needed to pay for debt and imports.
The government estimates that farmers are hoarding 18 percent of last season's record soybean crop of 53.4 million metric tons, or about $3.7 billion worth of oilseeds.
Record Harvest
Cabinet Chief Jorge Capitanich said Jan. 15 farmers are undercutting state financing by hoarding. In the first seven weeks of the year, they sold $1.8 billion of grains for export, the lowest for the period since 2007. In 2014, they sold $24.1 billion of grains and oilseed to boost central bank reserves.
Morgan Stanley is forecasting another record soybean harvest in Argentina of 57.8 million tons in the current season, which will be harvested starting in April.
State-run Banco de la Nacion Argentina barred financing for farmers hoarding soybeans on Jan. 1. Capitanich called the move a "rational measure" and it prompted the two leading farm associations to threaten to close their accounts at the country's largest bank in protest. The associations have filed a lawsuit claiming discriminatory loan practices.
Farm Patrols
President Fernandez introduced currency controls in 2011 spawning a black market where Argentines pay as much as 13 pesos to buy a dollar compared with the official rate of 8.71. For farmers, after the export tax, they receive about 5.66 pesos. With peso futures trading at 12.73 a year from now, they have an incentive to hold on to their crops.
Argentina devalued the currency 19 percent in two days in January 2014, the steepest decline in 12 years. The currency has lost another 8.2 percent since then.
Another seven silo bags were vandalized last week in the town of Henderson, 420 kilometers (261 miles) west of the capital, according to La Nacion. The attacks are heightening tensions and causing farmers to step up patrols on their land, according to Lingua, the Oliva grower.
"Farmers are patrolling their land to protect what's theirs," he said. "We hope we don't have to lament any tragedies but we have the right to protect what's ours."