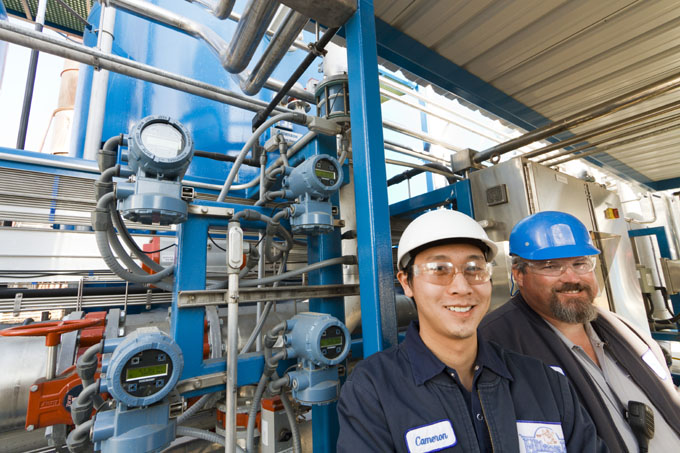 Cutting-edge water reclamation technology at Hilmar Cheese Co. reduces the need to tap fresh groundwater reserves.
Source: Dairy CARES
As a California dairy farmer, Jim Ahlem takes numerous steps on his farm daily to protect and preserve water quantity and quality. His neighbor, Hilmar Cheese Company, does the same.
"Water is a precious natural resource," said Ahlem, who is also one of 11 dairy families that own the cheese manufacturing plant. "Our investment in technologies to conserve, recycle and protect water is simply the right thing to do."
Since 2001, Hilmar Cheese Company has invested considerable time and capital in research, engineering and operations to design a system capable of handling its process wastewater efficiently and responsibly.
"We took a challenging situation most food processing companies don't face and created a sustainable solution," said Ahlem, referring to the fact that most food companies send their wastewater to nearby municipal treatment facilities, an option not available to the rurally located cheese maker.
Today, Hilmar Cheese Company operates one of the most advanced food processing water treatment and recycling facilities in the nation. More than 70% of the water used in the facility is recycled water, reducing the plant's need to tap fresh groundwater reserves.
"The vast majority of our recycled water – 60% – comes directly from the milk we process. The other 10% is from our water reclamation facility," Ahlem said.
All recycled water goes through a state-of-the-art, multi-stage process, including dissolved air floatation, anaerobic digestion, aerobic polishing, ultra-filtration and a two-stage reverse osmosis treatment method. The comprehensive process removes organics, solids and minerals and allows for the capture of biogas for on-site energy production, reducing the plant's dependence on fossil-based fuels. Neighboring farmers also benefit from the investment Hilmar Cheese Company has made in this cutting edge water processing and reclamation technology.
"Water is the lifeblood of local farms, and sometimes good quality water supplies can be tight," he said. "To help farmers, we offer irrigation water free-of-charge on an as-needed basis to farms in the area."
At any given time, up to 17 different farms from as far as three miles away utilize the recycled water for their crops.
"We're committed to being good neighbors, and this is just one way in which we try to give back to our community," Ahlem said.