Q I have a large-scale farm operation that has grown rapidly in the past several years, and there seems to be a never-ending list of opportunities on the horizon. To capture the potential, I need help. I prefer working with partners who are committed to long-term success. My challenge is finding a pool of credible candidates.

There are lots of people with the "dream," but few have the commitment. If driven to succeed, they seem too independent and hesitant to partner with someone else. How do I find a pool of viable candidates? Assuming I do identify candidates, how do I make a selection and how should I bring them into the operation?
You're looking for a partner, which is different than a boss or subordinate
---
A Rest assured, the kind of person you're looking for is out there. To find promising candidates, it will take more than the typical want ad. Understanding your own desires will help change your approach and selection process. It'll affect the way you structure your working relationship and employment agreements. You're looking for a partner, which is different than a boss or subordinate.

Use the following tools, first to define what the operation looks like and how it will grow with the right management/ownership structure. Then, define an internship, interview/selection process, etc.

Business plan: Clearly define the business opportunity for you and your future partner. It will allow you to think through respective roles and responsibilities and it should allow you to budget for growth.

Internship: Devise an internship period with measurable milestones for you and the intern (prospective partner) to help you both test the relationship and learn from each other.

Interview/selection process: In defining what you're looking for, you'll learn how to test, question and learn about others. Remember you're not looking for an employee; you're looking for a partner. Not someone who will do as they're told, rather someone who will help the business grow using their full capabilities. Keep in mind, you're not looking for a mini-you. You want someone who will complement the operation and bring strengths to offset current weaknesses.

Written job descriptions: Spell out in writing who is responsible for what and the consequences of failure, inaction, errors and negligence.

Employment manual: This is important especially as it relates to someone who will start as an
intern, transition to an employee, earn ownership, buy equity and in time become partner.

Review process: A system of regularly measuring progress is essential in professional development and performance on the job. As you become partners, the review becomes more about what each person can do to improve the operation, but it always include an element for professional development.

Compensation schedule and an ownership bonus: As spelled out in the employment manual, a compensation schedule is an excellent demonstration of your intent to transition some ownership to your partner.

Operating agreement: Define who is responsible for what, how decisions will be made, when and how finances are managed, etc.

Buy/sell provisions: Provide some assurance both ways that, if there is a triggering event (death, disability, etc.), all is not lost.

These common, yet underused, tools will help you start off on the right foot, which is important to long-term success. Don't compromise your objectives based on a seemingly short supply of likely partners. They're out there; it just might take more effort than you originally anticipated.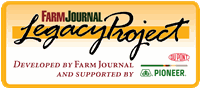 To access a library of tools to aid in the succession planning process, visit www.farmjournallegacyproject.com/tools
Kevin Spafford serves as Farm Journal's succession planning expert. His firm, Legacy by Design, guides farmers and agribusiness owners through the succession planning process. Send questions and comments, to Legacy by Design, 2550 Lakewest Drive, Suite 10, Chico, CA 95928, (877) 523-7411 or legacyproject@farmjournal.com.