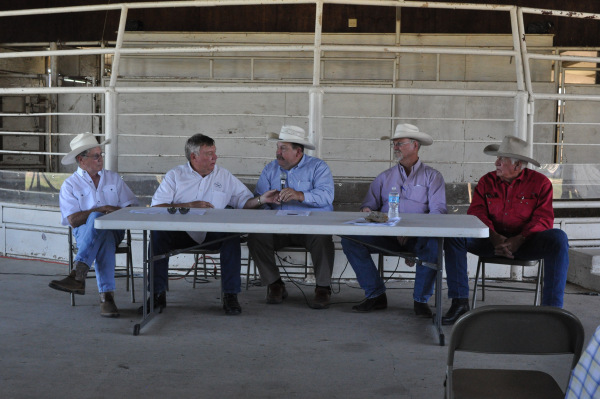 The International Brangus Breeders Association (IBBA) hosted its inaugural Brangus Fall Conference in San Antonio, Texas, October 2-4. Attracting more than 100 members, committee representatives, and the entire International Junior Brangus Breeders Association (IJBBA) Board of Directors, attendees enjoyed an informative conference.
The event kicked off last Thursday afternoon with committee meetings at the Drury Inn and Suites, and a barbecue at the IBBA headquarters concluded the evening with Forrest Roberts, CEO of the National Cattlemen's Beef Association (NCBA), headlining the event. Roberts spoke about the outstanding opportunities that lie ahead for the beef cattle industry and emphasized critical topics in need of producers' attention like submitting comments to prevent the EPA's definition expansion of the Waters of the U.S. (WOTUS).
"The opportunities that exist for producers in the beef cattle industry are greater than the challenges," Roberts said.
Following the final committee meetings, Friday's schedule included a field day at Doguet's Diamond D Ranch in Poteet, Texas. A steak dinner was provided by Doguet's, and transportation was sponsored by Charles and Charlotte Crochet from Lafayette, La. Producers were attentive during the informative live cattle demonstrations that followed about udder scoring, docility scoring, and feet and leg structure and were able to evaluate pens of cattle. Producers at the field day then directed questions to a panel of experts involved in various sectors of the cattle industry. Jason Bates, IBBA's Director of Field Services and Commercial Marketing, moderated the panel consisting of Bill Austin, a commercial and purebred producer from Menard, Texas; Buck Thomason, a purebred producer from Cranfills Gap, Texas; Dr. Joe Paschall, Texas AgriLife Extension Agent in Corpus Christi, Texas; Jay Gray, Jr., General Manager of Graham Land and Cattle Co., Gonzales, Texas; and Lee Alford, a commercial and purebred producer from Caldwell, Texas.
Friday evening concluded with the International Brangus Breeders Foundation (IBBF) Kickoff Gala. The gala commemorated the establishment of the IBBF which will fund research initiatives to advance the livestock industry as a whole while benefitting Brangus breeders today and in the future, as well as educate the beef cattle industry about Brangus attributes and production practices. The Foundation will also provide youth opportunities to become leaders for the future of the Brangus breed and the agriculture industry. Generous donors collectively gave $33,000 to establish funds for the Foundation. Ray Westall, owner of Brinks Brangus @ Westall Ranches, LLC, presented the IBBA with a check to start off the fundraising. Bill and Gayle Davis, owners of Chimney Rock Cattle Co., matched Westall's donation. Other donors included David and Nada Wood, Double W Ranch; Michael and Judy Kammerer, Red Bird Meadows Ranch; Russ and Pam Williamson, Skyhawk Brangus; Mike and Robin Vorel, Vorel Farms; and Joseph and Nancy Lingg, Lingg Brangus.
A Board of Directors meeting Saturday morning wrapped up the inaugural Brangus Fall Conference. Video highlights and coverage will be available at GoBrangus.com. The IBBA, headquartered in San Antonio, Texas, strives to provide the commercial cattle industry, domestically and internationally, with the best genetics possible. It was founded as the American Brangus Breeders in 1949 and has since evolved into the IBBA. The purpose of the IBBA is to enable members to serve the commercial cattle industry. For more information, visit GoBrangus.com.

Source: International Brangus Breeders Association