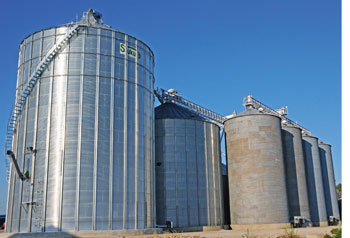 Be prepared for grain quality surprises in your bins
This year's brutal winter was helpful in at least one way. You didn't have to work hard to cool your stored grain. With warmer temperatures on the horizon, it's time to make sure your grain can withstand storage into the summer.

This past year's combination of an extremely wet spring, dry summer and late harvest resulted in inconsistent corn and soybean quality. "That tremendous amount of variability last fall likely hasn't gone away," says Charles Hurburgh, professor of agricultural and biosystems engineering at Iowa State University.

Variability equals storage problems, as well as unwanted surprises. Based on conversations with elevators and farmers, he says farmers should assume their grain is about 2% wetter than they originally thought. "This is due to the equalization of moisture," he says. "When you dry grain that is a mixed bag it doesn't dry uniformly."

High-moisture grain, combined with increasing temperatures is a situation that must be managed. "If adding 2% to your moisture number takes you into a risky place when the weather warms up, you better plan to do something," Hurburgh says.

Assess your situation. In the spring, farmers should inspect their bins every one to two weeks, advises Ken Hellevang, North Dakota State University Extension engineer. 

Factor in solar energy when managing the temperature in your bins. Pay attention to the south wall and near the roof, as grain in those areas might be warmer than the average outdoor air temperature. 

Beyond major temperature swings, spoilage and insects are the other main reasons that grain warms up in storage. These are issues that can be maintained but not improved, Hurburgh explains, so monitoring is vital.

Surface examinations won't provide  enough intel in large bins. "You can't know what's going on inside a bin without having some form of electronic temperature system," Hurburgh says. These systems range from simple to extremely complex. In the end, he says, the system just has to provide you with a synopsis of the temperature conditions in your bins so you can manage them appropriately.

Run the fans. USDA estimates that as of March 1, there were 3.86 billion bushels of corn and 382 million bushels of soybeans being stored on farms. A lot of 2013 grain will continue to be stored on farms, even into 2015, Hurburgh says. 

To prevent spoilage this summer, Hellevang says, farmers might need to run the bin fans more than normal right now to even out moisture and temperature variations. 

Corn should be dried to 13% to 14% moisture, soybeans to 11% moisture and wheat to 13% moisture—levels that will increase the grain's allowable storage time. 

Cereal grain at 70°F can store for about 30 days at 18% moisture, 45 days at 17% moisture, 70 days at 16% moisture and 200 days at 14% moisture.

Storage time also doubles for each 10° the grain is cooled. For example, cereal grain at 16% moisture can be stored for about 230 days at 50° and 120 days at 60°, but only about 40 days at 80°. 

"Keep the grain cool in the summer," Hellevang says. "Cover the aeration fan to limit warm air entering the bin and operate the fan for a few hours during a cool morning to cool grain near the top of the bin."
---