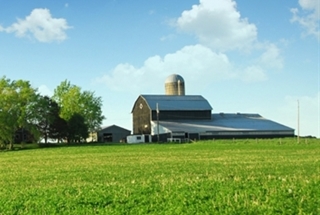 With more than two years elapsed since county commissioners signed the state's only agribusiness ordinance into effect in Hancock County, stakeholders in the issue are continuing to tweak the regulations in hopes of getting to what planners originally envisioned.
"People understand (the issue) now a lot better than they did two or three years ago," said Rex Zenor, owner of Piney Acres Farm and one of several growers, farmers and planners who formed a committee to revisit the ordinance for possible revisions.
Adopted in May 2012, the ordinance is intended to promote agribusiness in Hancock County while preserving the quality and character of the county's neighboring uses, the ordinance reads.
Proponents said the new rules would allow farmers to add additional revenue streams to the agriculture operations on their land and bring more tourists and commerce to the county in the process.
However, permitting requirements and difficulty interpreting what is and is not an allowable event under a given circumstance has bogged down implementation, what little implementation there has been.
County officials say fewer than a handful of farmers have come forward to use the ordinance since its signing, which makes deciding whether the rules are too lax or too stringent even more difficult.
Under the current rules, activities consistent with normal farm operations such as selling farm-grown products and small-scale, outdoor agriculturally-themed activities such as farm tours, horseback riding and exhibits are allowed by right with some restrictions.
More intense uses require approval and a temporary permit from the county planning office or board of zoning appeals, and long-term, large-scale activities designed to appeal to the general public require notification to adjoining landowners with BZA review and approval.
Those farmers who have applied for permits have said the requirements are more burdensome than enabling, and some county officials agree.
"I'm looking forward to a revision to come before us," Hancock County Area Plan Commission member Tom Stevens, told the Daily Reporter. "There have been problems with it. It's been more a vehicle to allow neighbors to remonstrate rather than something that agriculture business owners can use to bring tourism to the county."
Last summer, Hancock County Commissioners asked county planner Mike Dale to explore what could be done to make the ordinance easier to implement while at the same time protecting landowners whose property lies in proximity to an agribusiness activity from onerous overuse.
Since that time, an "ad hoc" committee from the county's agriculture sector has been trying to find an appropriate balance between the property rights of farmers wishing to hold events on their property and their neighbors with an eye toward easing some of the permit requirements and streamlining some of the language, said committee member Tom Roney.
"I think we're looking to lighten up the requirements a little bit," said plan commission member Bill Bolander.
But even farmers like Zenor, probably the most active agritourism proponent in the county, concede that limits and permits are not altogether a bad thing.
"If you're talking about a big event that brings in big crowds, then permitting is probably prudent," Zenor said.
Committee members say work on a proposed draft is nearing completion with a target date of early next year to present it to the area plan commission for review and comment.
"I think we're going to get it all worked out," Zenor said. "We want to rewrite it so that everyone can live with it. I think it's going to happen."--Jim Mayfield, Daily Reporter