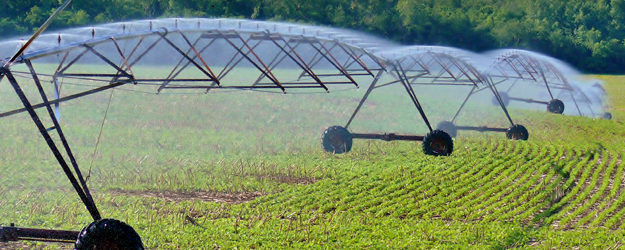 The official start of summer has brought sweltering temperatures to the U.S. Corn Belt, where the corn and soybean crops are quickly fading. If widespread rains don't materialize soon, corn yields will suffer, and volatility will only increase, especially with the large influx of speculative money in today's commodity markets.

As of the week ending June 17, 63% of the nation's corn was rated good to excellent, down from 66% a week earlier. The percentage of soybeans in similar condition slipped to 56%, compared with 60% the previous week.

Nearly all of the central Corn Belt is abnormally dry to experiencing moderate to severe drought, according to the National Oceanic and Atmospheric Administration's latest drought monitor index released June 12. But the driest area of the Corn Belt—ground zero—is Indiana, where only 37% of the corn is rated good to excellent, down from 49% the previous week.

This week Chris Hurt, agricultural economist with Purdue University, reduced his U.S. average corn yield forecast to 160 bu./acre, down from his original estimate of 163 bu./acre. Still, he says, lost yield potential could recover in Indiana and elsewhere if weather patterns change and rain starts falling. "What we have are some really scary conditions in the eastern Corn Belt being offset by very good conditions in Minnesota and South Dakota," Hurt says.

This year's early planted corn crop is reaching the critical pollination period ahead of normal, thus the next few weeks—and whether it rains or not­—will determine the eventual yield of this year's crop. As of June 17, 5% of the nation's corn had already begun silking.

Hurt reduced his corn yield forecast for Indiana this week to 151 bu./acre, down from his original 166 bu. "Nine of those acres came off this past week," he says. "Every day is critical at this point. We are on the verge of much more major crop losses on corn if we don't get a turn in the weather." Unlike in some western Corn Belt states like Nebraska and Colorado, irrigation in the heart of the Corn Belt is minimal.


Soybeans Hitting Moisture Wall

Meanwhile, growth in soybean plants in areas lacking moisture has stalled. "Beans are not getting much vegetative growth," says Hurt. "Beans have hit a limit. They can't grow anymore; they are just trying to stay alive." Hurt's latest U.S. average soybean yield forecast is 43.1 bu. per acre, down from his original 43.9 bu. Calculated over estimated planted acreage, his forecast reflects a reduction of 60 million bushels of beans unless weather conditions start to improve soon.

"We are out of soybeans," Hurt says. The country needs every last soybean it can produce, he adds. USDA's latest carryout estimate of 140 million bushels for the 2012-13 crop year is only a 16-day supply. Rationing will need to begin if soybean condition slips much further as the growing season progresses. If beans can hold on, Hurt says their yield potential could rebound.

Money Flow
"The fundamental balance sheet on soybeans is treacherous," say Ross Brainerd, merchandizer with Commodity Specialist Co., Kansas City. "A smaller Brazilian crop only magnifies the problem. But the bigger problem is the amount of money that flows in and out of commodity markets daily."

With trading electronic, Brainerd notes that algorithms that trigger trades increase volatility. "The current volatility is not due to the fundamentals only." Factors other than weather and money flow are also adding to today's price strength, he says, including strong balance sheets on corn and soybean operations that allow producers to hold their crops longer if prices turn lower, and not-so-good profit-and-loss statements on dairies and poultry operations that are causing those producers to buy feed hand-to-mouth.

The damage already caused by the ongoing drought has spurred Hurt to up his price forecasts for corn and soybeans. If weather were to improve immediately, Hurt says that U.S. average corn prices likely would come in near $5.25, which is 25 to 30 cents higher than his forecast of a couple of weeks ago. He now expects soybeans to average near $13.00, up from $12.00 just two weeks ago. If conditions remain dry? He is not ruling out new record-high prices.

Along with the weather uncertainty, there's the macroeconomic situation, particularly in Europe, that has investors moving money between markets. "Volatility will increase and become almost staggering due to the sheer flow of money into and out of the markets," says Brainerd.

A lot of rain at the right time, though, could work to tame the current price volatility.
For More Information
Visit AgWeb's Market Center.
See your local weather forecast with AgWeb's Pinpoint Weather.
How do your crops look? Submit a report to AgWeb's Crop Comments.
---