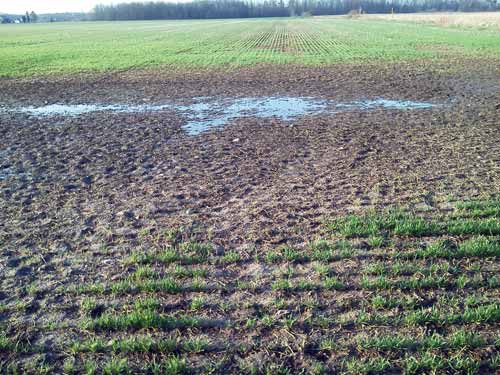 Wheat production in India, the world's biggest grower after China, may tumble by the most in 12 years after heavy rains and hailstorms ravaged farms.
The harvest will probably drop 8.3 percent to 87.9 million tons from a record 95.9 million tons a year earlier, said Rajnikant Rai, chief operating officer of the agriculture business at ITC Ltd., a cookie and flour maker and one of the biggest wheat buyers. That'd be the smallest crop since 2011 and the largest decline since 2002-2003, government data show.
Widespread rain and hail across most of the country since late February have ruined crops from wheat to rapeseed and vegetables, hurting farmers and threatening to fan food inflation in Asia's third-largest economy. Lower supplies and poor quality may spur flour mills to increase wheat imports, according to Kotak Commodity Services Pvt.
"We never expected rains to wreak this kind of havoc," Amit Kumar, a 26-year-old farmer, said while cutting the rain- flattened crop with his wife in Kurana village in Uttar Pradesh state. "If we employ laborers, we won't be able to pay their wages. Even old people in our village are saying they've never had such an experience when entire crops have vanished."
Crops on about 9.38 million hectares (23.2 million acres) were damaged after rainfall since March 1 was more than double the 50-year average, according to government data. The main wheat-producing regions had almost five times the average, they show. The government estimates the crop will be 5 percent below its February forecast of 95.8 million tons.
Grain Bowl
Wheat crop damage in some regions was as high as 80 percent, ITC's Rai said in a phone interview from Lucknow on April 16. Yields in Punjab, Haryana and western parts of Uttar Pradesh, called the grain bowl of India, may drop as much as 20 percent and the quality is poor, he said.
For Ramesh Chand, a 52-year-old farmer, who slept on the roadside overnight to join a queue of growers attempting to sell wheat at a government-run purchase center, the crop loss was about 40 percent. He planted the grain on 6.2 acres with 3.2 acres taken on lease and he says he's now in no position to repay loans taken to grow the crop.
Prime Minister Narendra Modi has promised to ease rules to allow farmers to claim compensation for crop damage. Farmers will be paid 50 percent more than usual and growers with 33 percent damage can claim state aid compared with 50 percent earlier, Modi said on April 8. The government has also ordered banks to restructure farmer loans.
Monsoon Threat
The damage poses risks to food inflation in the next three months, Sonal Varma and Aman Mohunta, Mumbai-based analysts at Nomura Holdings Inc., wrote in a report on April 6.
A below-normal monsoon for a second straight year may lower India's farm output and incomes, CRISIL Ltd., the Indian arm of Standard & Poor's, said in a report on Wednesday. Rainfall in the June-September monsoon period will be 93 percent of a 50- year average of 89 centimeters (35 inches) as an El Nino develops, the India Meteorological Department said on Wednesday.
Wheat futures in Mumbai climbed 0.6 percent to 1,450 rupees per 100 kilograms, the first gain in four days, while prices in Chicago traded 0.6 percent higher at $5.02 a bushel by 5:54 p.m. in Mumbai.
Mills in southern India may boost wheat imports to as much as 150,000 tons in 2015-2016 from 45,000 tons a year earlier, according to Tamil Nadu Roller Flour Mills Association last month. About 80,000 tons have already been imported, Rai said.
State reserves of wheat and higher imports may help contain grain prices, Nomura said. Inventories totaled 17.2 million tons on April 1, more than double the emergency requirement, government data show.