In advance of Thursday's USDA reports, Indigo Ag released its final corn and soybean production forecast for the season. The company pegs corn at 161.2 bu. per acre and soybeans at 45.6 bu. per acre—both a drop from the Sept. 12 estimates.
"At the conclusion of what has been one of the most unpredictable growing seasons in recent memory, Indigo is proud to offer a final look at the supply side of the market," said Barclay Rogers, vice president of business development for Indigo's GeoInnovation team.
In terms of total production, Indigo is basing its estimates on 86.2 million planted acres of corn and 75.7 million acres of soybeans. Both corn and soybean production estimates are 1% higher than Indigo's September estimates, though still lower than USDA's September forecast.

States with the most damaging planting delays, with many acres more than 30 days behind average, include North Dakota, Minnesota, South Dakota and Ohio.
The 12 largest corn- and soybean-producing states, all are predicting lower soybean production and 10 of the 12 are predicting lower corn production.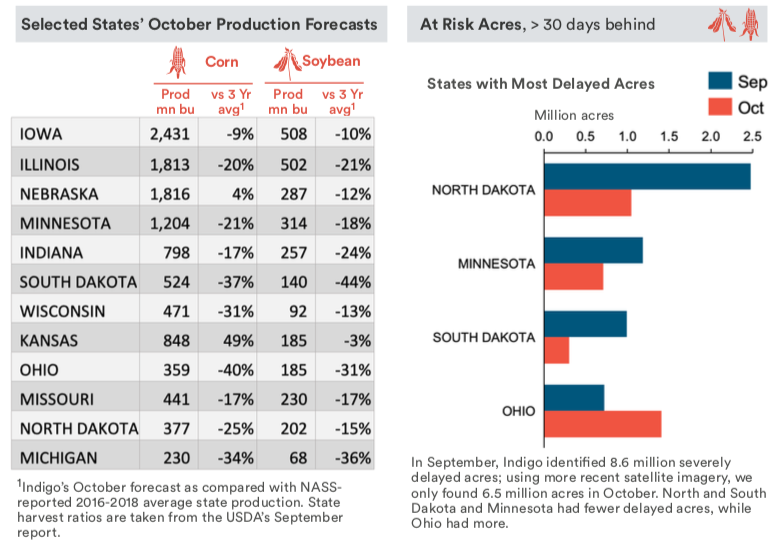 Indigo uses remote sensing, ground equipment, historical and weather data to track variables related to crop health. The technology helps characterizer soil conditions, field boundaries and subtle differences in crop performance across regions—all of which help inform this report.
Listen to Barclay Rogers discuss the Indigo crop estimate on the AgriTalk Radio Show with Chip Flory.