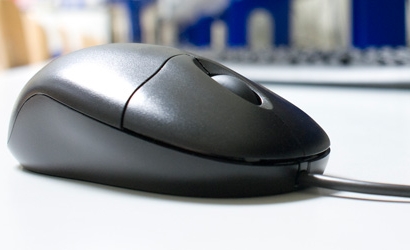 AgGateway seeks farm privacy, rules for sharing
Jeremy Wilson stands on both sides of the Big Data fence: He farms with his father, Wade, near Olney, Ill., and he works as a technology specialist at Crop IMS in Newton, Ill., which provides field prescriptions to producers. That leaves him feeling torn about the best way to glean valuable business information while protecting privacy.

"Our farm can be considered at the top end of extreme data collecting," Wilson says, ticking off several collection points. A 16-row planter, for example, tracks "everything you can" through an AgLeader advanced seed tube monitor, RTK and technology for variable-rate application of starter fertilizer. Meanwhile, the combine is deployed at harvest to collect yield data and provide insights when spreading fall fertilizer, DAP, potash and anhydrous.

Most of the data are shared with someone, Wilson notes. Planting information goes to a crop insurance provider and the local co-op for analysis. Harvest data go to an input supplier to gauge fertility removal. 

Wilson's unique perspective led him to become involved with AgGateway, a growing nonprofit consortium of businesses serving the ag industry. It aims to expand e-business with recommendations for privacy policies
while making data transfers safe and seamless. 

"I hear from Dad every day: He wants the tools to share data easily with the people he trusts," explains Wilson, who has worked in technology since 1996. "I can see the value in Big Data and benchmarking. I also can see that a company's business plan has to be about benefiting the farmer, not the corporation."  
Competitors Partner. One advantage of AgGateway is that it is color blind. Member companies represent all stages of the agricultural supply chain and aim to reduce the cost and frustration of managing complex data, explains Dean Liviens, River Valley Co-op, Davenport, Iowa. 

Data often represent a business advantage to a producer, he notes, making privacy a primary concern. 

"For instance, cash rents are very competitive," Liviens notes. "Even $1 per acre can make a difference. If Farmer A can raise 10 bu. per acre more than Farmer B, he can be more competitive. It's not surprising farmers don't want their practices or results to get out." 

The difference on today's farms is that information once trusted with a local crop adviser now is stored remotely on the cloud. "You don't know who might have touched it or who to talk to to get it back," Liviens points out.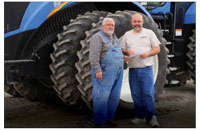 Data analysis is critical for Illinois producers Jeremy Wilson, right, and his father, Wade. Information access and privacy are key for them. 
Seamless Sharing. In the future, producers such as the Wilsons might be required to expand data collection. Conditions at the time of spraying and application rates might be supplemented with information protecting producers against claims that an application damaged another farmer's crops or polluted the environment. Aggregated data might be used to regulate production, water use and sustainability measures. 

Those behind AgGateway hope to streamline data sharing by limiting human involvement in the transfer of information from the farm.  

"One set of information would be the grower's plan, followed by the consultant's agronomic recommendations, which would go to the input supplier as a work order and back to the farmer," explains Don Bierman, Crop IMS, a company that specializes in gathering and analyzing crop-production data. 

The challenge producers face is one of compatibility. Dick Wittman, who farms near Culdesac, Idaho, wants a smooth interface between field records and financial analysis tools. He notes that he works with more than a half-dozen companies on the agronomic side, each of which has its own software.

"They each assign my fields their own names," Wittman explains. "Companies need to be customer-driven. I name my fields, and I have the master database. They need to adapt to their customers, not the other way around."

Wittman isn't alone. A 2013 study finds 40% of precision agriculture users agree or strongly agree that incompatibility across different types of equipment is a barrier to adoption, according to Purdue University agronomist Bruce Erickson in conjunction with CropLife. 

This is not the first time agriculture has crossed the compatibility bridge, notes Shane Brueggen, strategic marketing, John Deere, Olathe, Kan. In the 1970s, for example, the industry agreed on standards for hydraulic couplers. 

To address these issues, AgGateway participants introduced the Ag Data Application Programming Toolkit (ADAPT), a collection of software resources. Although technical hurdles will lower with time, efforts such as AgGateway face challenges in the form of many moving parts, says Liviens, with River Valley Co-op. "Not only is it highly technical, but it is changing daily, whether you are talking about hardware, software or government regulations," he says. "Just because you address one part, it doesn't mean you are done." 

To foster clear communication, AgGateway volunteers will develop a glossary of terms, including "field" and "production." They first adopted relevant definitions from USDA, the Agricultural Industry Electronics Foundation, the American Society of Agricultural and Biological Engineers, and the International Organization for Standardization. The working glossary, still in progress, is available at agglossary.org.
Bridging The Gap. Basic data privacy laws already have been defined, notes Bierman, with Crop IMS. What AgGateway focuses on is the "gray stuff," meaning issues lacking legal clarity, as well as processes companies should consider as they create data-privacy policies, he says. 

For example, ag businesses must protect producers' information and understand the privacy policies of vendors. A crop consultant who supplies prescriptions to a co-op must learn whether the co-op might mine data or share it with input suppliers. This fall, AgGateway published a white paper outlining factors to consider when designing data policies.

Wilson, the Illinois producer, acknowledges it's challenging to bring together so many players. Yet he is excited by the progress. "No matter what the standard will be, it will be better than the past 15 years in which every company has had its own [computer] code," he says.
To learn about a complementary data initiative at Purdue University called the Open Ag Data Alliance, visit www.topproducer-online.com. 
---
Report Aims to Guide Data Policy
A whitepaper from AgGateway advises agriculture companies to consider a variety of factors when developing farm data policies, including security and privacy programs; notice, choice and consent; notice of collective use, disclosure and sales limit; and also accountability.

The report highlights views on data from several industry organizations. The American Farm Bureau Federation (AFBF) and the National Corn Growers Association say farmers should receive fair compensation for data that are used to generate income for companies. AFBF also advises farmer-generated data should be stored in venues not subject to Freedom of Information Act requests—in other words, not in the hands of government agencies. 

Organizations surveyed say producer-generated data belong to producers, must remain under their control and must remain available to access or removal by producers in the future, regardless of the collection date. 

The document also says farmers are entitled to a digital bill of rights, which includes the ability to:
Claim ownership of information.
Choose a data repository.
Control who sees the data and limit sharing with third parties if desired.
Secure technology that meets or exceeds international standards.
Maintain privacy.
Participate in the monetization of data.
Download the whitepaper at aggateway.org.