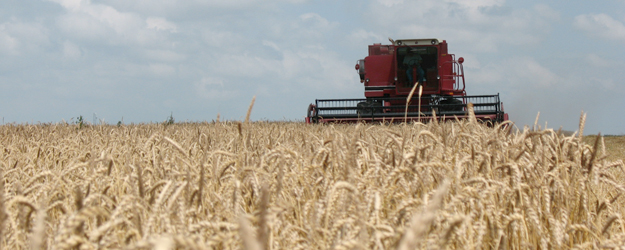 Unapproved genetically engineered glyphosate-resistant wheat was found this week in an Oregon field. Here are industry reactions.
USDA's Animal and Plant Health Inspection Service (APHIS) announced May 29 that it has found genetically engineered (GE) glyphosate-resistant wheat plants in an Oregon field. The farmer who initially made the discovery had sprayed volunteer plants with Roundup and the plants survived.
The problem with this, of course, is that no genetically engineered wheat varieties are approved for general planting. This is a story that is just beginning to unfold, and AgWeb will report updates on the investigation as they become available.
Meantime, here are the first responses from several industry entities. Portions of the NAWG and Monsanto statements that AgWeb deemed redundant were removed, but you can read the statements in their entirety here and here. Additionally, you can read an extensive Q&A from APHIS about the situation here.
USDA
Test results of plant samples from an Oregon farm indicate the presence of genetically engineered (GE) glyphosate-resistant wheat plants. Further testing by USDA laboratories indicate the presence of the same GE glyphosate-resistant wheat variety that Monsanto was authorized to field test in 16 states from 1998 to 2005. APHIS launched a formal investigation after being notified by an Oregon State University scientist that initial tests of wheat samples from an Oregon farm indicated the possible presence of GE glyphosate-resistant wheat plants.
The detection of this wheat variety does not pose a food safety concern. The Food and Drug Administration (FDA) completed a voluntary consultation on the safety of food and feed derived from this GE glyphosate-resistant wheat variety in 2004. FDA completed the voluntary consultation with no further questions concerning the safety of grain and forage derived from this wheat, noting that this variety was as safe as any non-GE wheat currently on the market.
USDA officials say they are taking this situation very seriously and have launched a formal investigation.
National Association of Wheat Growers
"Roundup Ready" crops have been genetically modified to include a gene that works to make that crop resistant to the broad-spectrum herbicide glyphosate, also known by its branded name, Roundup. No Roundup Ready wheat, or any other genetically modified wheat, has been authorized by USDA for commercial sale in the United States or anywhere else in the world.
Monsanto did conduct research on Roundup Ready spring wheat in the past, but withdrew its application for deregulation of the trait in wheat in 2004. APHIS will be investigating this detection to determine how this trait appeared outside of a regulated environment. We expect the regulatory authority's investigation will give us additional details about the situation and any appropriate actions that may be needed.
We know it is important to understand how this situation occurred, and we have confidence that APHIS will be able to determine that as soon as possible. Nothing is more important than the trust we've earned with our customers at home and around the world by providing a reliable supply of high-quality wheat. As industry leaders, we will cooperate with authorities in the United States and international markets to understand the facts surrounding this incident and help minimize its impact.
Oregon Department of Agriculture Director Katy Coba
The confirmation of wheat in Oregon that carries the trait of genetically modified resistance to glyphosate has triggered an appropriately thorough investigation by USDA's Animal and Plant Health Inspection Service.
This is a very serious development that could have major trade ramifications for Pacific Northwest soft white wheat. I am concerned that a highly regulated plant material such as GM wheat somehow was able to escape into a crop field. There are many questions at this time, and I am hopeful that the investigation will find the answers quickly.
In the meantime, the Oregon Department of Agriculture will do all it can to work with our important wheat industry to keep export markets open. For Oregon consumers, it is important to stress that GM wheat is not a food safety issue, according to an assessment done by FDA, and that our Northwest wheat does not pose a risk to human health. I ask that Oregonians remain patient as we all wait for more details to emerge as part of the USDA investigation.
Monsanto
Over the past decade, an annual average of 58 million acres of wheat has been planted in the U.S. This is the first report of the Roundup Ready trait being found out of place since Monsanto's commercial wheat development program was discontinued nine years ago.
Our process for closing out the Roundup Ready wheat program was rigorous, well-documented and audited. We understand that USDA's findings are based solely on testing samples from a single 80-acre field, on one farm in Oregon, which overwintered from the previous growing season.
As is the normal practice in this part of the country, wheat fields are left fallow following the previous harvest and sprayed with glyphosate to control weeds and to preserve soil moisture. The company noted that this report is unusual since the program was discontinued nine years ago, and this is the only report after more than 500 million acres of wheat have been grown. Accordingly, while USDA's results are unexpected, there is considerable reason to believe that the presence of the Roundup Ready trait in wheat, if determined to be valid, is very limited.
We will work with USDA to confirm their test results and as they consider appropriate next steps. We will also conduct a rigorous investigation to validate the scope of and to address any presence of a Monsanto Roundup Ready event in commercial wheat seed.
Earlier this month, USDA contacted us and requested information pertaining to an investigation into whether hard-to-control wheat from this field may contain a glyphosate-tolerance gene. We have provided materials, methods and offered technical assistance.
The necessary testing requires sophisticated methods, considerable expertise and meticulous laboratory techniques to generate reliable results. Commercial test strips, which are used to detect the presence of glyphosate tolerance in soybeans, canola, cotton and sugar beets, generate a very high incidence of false positive detections (greater than 90%) and are not reliable for wheat.
We have asked for information necessary to confirm the presence of the Roundup Ready trait in the samples that were tested. Up to this point, Monsanto has not received details about the testing USDA has performed, nor has UDSA provided us with samples necessary to verify their findings.
Statement from the Kansas Wheat Commission on Biotechnology
Bioengineered foods would have a positive impact on the consumer in many ways. There is the convenience of having favorite fruits and vegetables available year-round instead of waiting for them to be 'in-season'. Biotechnology can remove undesirable traits, like allergens and toxins, from foods by creating a healthier product.
It can also add desirable traits like additional nutrients which help prevent diseases. It positively impacts the environment by making farming practices quicker, more efficient and eliminating the need in some cases for certain types of pesticides and herbicides because their resistance has been bred into the plant.
Read More: Monsanto Modified Wheat Unapproved by USDA Found in Oregon Field
---