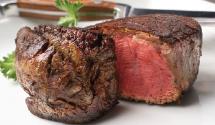 Do you know about the cattle industry's structure and how beef gets to consumer plates?
By: Larry Corah, Vice President, Certified Angus Beef LLC
This year has ushered in cattle prices exceeding the expectations of most analysts and cattle producers. The question on everyone's mind is, will beef demand stay strong enough to maintain these 2014 price levels?
So far consumers have continued to buy beef, although we are seeing shifts in what they buy (more ground beef), and portion sizes at both retail and restaurants are shrinking. We're even selling beef at retail by the serving rather than by the pound, a good marketing strategy for our times.
Certainly, cattle numbers and prices are rocking all aspects of the beef food chain. Most of us look at this industry from the cow-calf or feedlot perspective, but we know it is way more complex. Have you thought about how beef ultimately reaches the consumer's plate?
What you likely did not know is how many other sectors play a critical role in marketing beef.
Of the beef sold domestically, about half is through retail and half foodservice with some obvious overlaps, leaving about 12% of total beef production for export.
More than 35,000 retail operations (grocery stores) sell about 43-44% of all beef using mainly self service with some full service cases to display product. The larger grocery chains buy directly from packers, while smaller grocery stores generally buy through a regional retail distributor. As you might expect, beef sales are greatly influenced by price featuring – with protein (pork, poultry or beef) generally the focal point of a store feature.
The other half of domestic beef sales go through the 830,000 restaurants of all sizes and shapes in the United States. Led by the hamburger, our industry is fortunate that beef is the preferred protein there. A few restaurant chains are large enough to buy directly from a packer, but most buy through foodservice distributors. These distributors do more than simply distribute as they break down the larger primals into serving-sized cuts shipped directly to local restaurants.
Not to be overlooked is the export trade, which usually involves a linkage between a packer and an international distributor that deals with retail operations and restaurants worldwide. Our industry is fortunate to have organizations like the U.S. Meat Export Federation assisting with U.S. beef promotion.
So, for a brand like Certified Angus Beef  (CAB), is this distribution process the same? Pretty much so, with some 17,000 licensed packers, distributors, retailers and restaurants playing the pivotal role.
What you likely did not know, and may find surprising is the percentage sold by those sectors differs for CAB product, which you can compare to all U.S. numbers in the structure diagram below. Last year, licensed retailers sold 47.5%, foodservice 37.5%, and international 15%. Bet you thought for a quality-focused brand, restaurants were the largest sector, but consumers love to buy the best to cook at home, too.