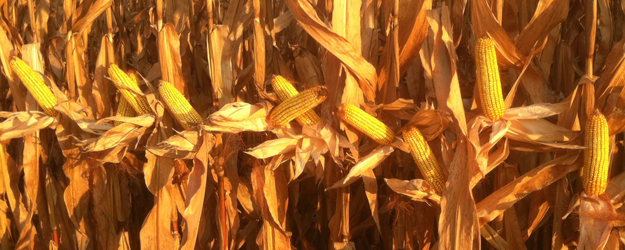 Current harvest reports indicate corn yields may be higher than most people expected, says Informa's chief market analyst.
The "run rate" on crop yields reported so far points to a national yield in the low-to-mid 160s, said Rob Westmoreland, executive vice president of Informa Economics. By comparison, USDA's latest report forecasts a yield of 155.3 bu/acre.
"This is the type of year where you have positive surprises," said Westmoreland, speaking at the organization's outlook conference in Memphis. "We're within range of popping 160 by a 'notable' amount. What's in seed bags today has a tremendous amount of horsepower in it."
U.S. farmers dodged a bullet with respect to weather conditions this year, the analyst added. Higher water temperatures in the North Atlantic persist and may lead to higher mainland temperatures next year. But this year crops could deal with temperatures that were slightly higher than normal.
"We've got some really special crops this year," said Westmoreland, based on early combine readings. "We'll have yields well above what's being built into most peoples' plans."
U.S. Market Share to Improve
Improved yields, coupled with lower prices, should help U.S. growers regain some lost world market share.
Already, some Brazilian producers are getting prices for their corn below their cost of production, Westmoreland reported. South American countries will need to make infrastructure improvements to remain competitive in a lower-price environment.
Spotlight on Soybeans
Westmoreland is bullish on the prospects for soybeans for next year--and the next ten years. He forecasts that margins on soybeans will be better than ones on corn next year. "The economics are very clear," he said, adding that many farmers continue to view soybeans as a sideline.
China will import close to 70 million tonnes of soybeans and meal this year, and by the turn of the decade that number may rise to 100 million, Westmoreland said. "The question is whether they can handle that kind of [import] volume on their end," he said, adding that indications are that they can.
Westmoreland expects world soybean production to set a record next year, putting further downward pressure on prices. He sees soy futures prices dropping from $12 in the 2013/14 crop year to $9.50 in the 2014/15 year. Meanwhile, stocks will rise even in the face of higher demand. "Even if we ship as much as possible to China, we still increase our carryout to 393 [in 2014/15]," he said.
Meanwhile, Informa's data points to continued low corn prices. The group forecasts that corn futures prices will fall slightly from $4.35 per bushel in the 2013/14 crop year to $4.20 per bushel the following year. Price declines, it expects, will be coupled with a rise in carryovers, from 1.8 billion bushels for the 2013 crop to 2.1 billion for 2014.
Demand for U.S. grain and soybean exports, on the other hand, looks good out to 2022. China and other smaller Asian countries will be big soybean buyers as a greater percentage of their population shift into the middle class. "We think consumption continues at a very smooth pace," Westmoreland said, "though weather variations will create exceptions."
Westmoreland also forecast that:
EPA will relax the ethanol mandate for next year, holding it flat.
The explosion in farmland values has run its course, thanks in part to relaxation of the ethanol mandate, which bid up land prices. "The upward marginal pressure is over," he said.
The big surge of institutional money going into crop farming seems to be coming to an end.
Corn yields will continue to increase through 2022 thanks to GMOs.
Corn acreage will be down 3 million acres next year.
Soybean acres will be up 6.8 million acres.