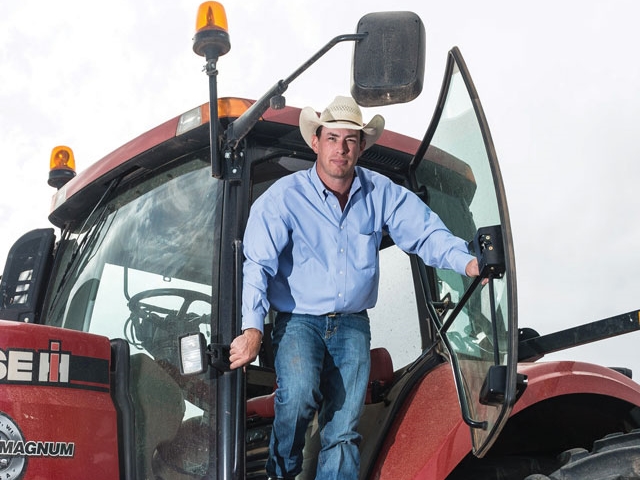 Young farmer adds value to 100-year-old operation
Farming in southwest Oklahoma is not for the faint of heart. Clouds can roar over the prairie and drop 6" of rain hard and fast—or disappear for months. Relentless sunshine and wind sizzles and scatters soil, and herds of up to 60 feral hogs nose through freshly planted milo fields, eating every seed and leaving ruts that can hardly be conquered by a sprayer.

Farmers here must be flexible, financially minded and creative. A big helping of grit helps, too. That's what Cody Goodknight, the 2017 Tomorrow's Top Producer Horizon Award winner, brings to the table. 

Goodknight is the fifth person in his family to hold the reins of Goodknight Farms, established in 1911 near Chattanooga, Okla., by his great-grandfather, Albert Victor Goodknight. Building on the traditions and firm foundation set by his predecessors, 31-year-old Cody has expanded the business, created new income streams, built a strong team and increased professionalism in the century-old operation.

Today, Goodknight Farms includes 3,200 acres of wheat, cotton, sesame and grain sorghum; 1,600 acres of range and grassland; and a cattle operation including 200 bred heifers and 800 stocker calves. All wheat acres are dedicated to production of certified seed wheat, which is sold to local customers. The team, which includes two full-time and several part-time employees, also does custom farm work on 3,000 local acres and harvests wheat and cotton for customers in Colorado, Kansas, Nebraska and Texas.  
Dad and Son. In 2008, Goodknight joined the farm full-time after earning a degree in agribusiness from Oklahoma State University. It fulfilled a dream he'd had since elementary school. His father, John, led the operation. 

"We get along great," Goodknight says. "A lot of people struggle with a dad who is old-school, but my dad has always been innovative. I would not be as good of an operator without his innovation and ideas."

John taught Goodknight the ins and outs of the business. He provided deep-dive instruction on finances, the importance of improving and protecting farmland and ways to build a professional network. The two formed a partnership and made plans to gradually shift Goodknight into the role of manager, allowing John to step back in his responsibilities and travel more with his wife, Maggie. 

But the timeline abruptly veered into the fast track. In early October 2013, a pickup truck driver pulling a stock trailer T-boned John's pickup. The crash broke John's neck and left him unconscious for four weeks. 

"That was our busy season for seed-wheat sales, and we were planting," Goodknight recalls. "At the time, it was just me and dad and one other full-time guy. My dad was in Oklahoma City two hours away, so I was trying to go see him and run the operation. We were making plans for the worst because the doctors didn't think he'd make it."

Yet John recovered. After two more months in the hospital, he returned home. The wreck left him unable to continue working, and it placed management of the operation on Goodknight's broad shoulders.  

"He has been more than up to the challenge," explains J. David Schumpert, the operation's CPA. "The upside of this adversity has been to accelerate new and innovative practices at Goodknight Farms."
Return on Investment. By hewing to his father's mantra, Goodknight has added value to every crop and animal they produce, whether by growing specialty crops, raising award-winning livestock or trucking grain hundreds of miles to capture the best price. "We want to be an above-average producer," he says.

The philosophy starts with their certified seed-wheat business, which has been a segment of the operation for more than 25 years. Annually, they sell about 40,000 bu. of seed to 50 growers, 75% of whom are repeat customers. Those customers come back because the Goodknights care about customer satisfaction. They grow multiple varieties, offer seed-treatment options and provide seed delivery. Additionally, they are regularly recognized as one of the top certified seed-wheat providers in the state of Oklahoma. 

Because of harsh regional weather conditions, conservation practices are essential. The Goodknights adopted no-till practices in 2000. They grow cover crops on all production acres to boost soil health and provide winter pasture for cattle.

"Our goal is to never have our land bare," Goodknight says. "I want something growing on that soil to protect it and keep it from washing away. Every bit of light that hits bare soil is wasted." Because drought conditions are common in the area, Goodknight also wants to use every drop of rain. Two years ago, the operation installed a rainwater capture system on a barn. The setup includes three 3,000-gal. tanks. A 1" rain can generate 6,000 gal. of water for watering cattle, washing equipment or spraying, he says.

Goodknight carefully weighs these types of innovative farming practices against the need to ensure they have clear ROI. It's a mindset his ag lender respects and appreciates.

"He likes to apply modern technology but does so in a way that keeps his financial ratios in a healthy position," says Gary Kafer, vice president of Oklahoma Ag Credit. 

Goodknight's leadership is most evident in the operation's cattle business, which has evolved rapidly under his watch. He knew the farm could make better use of its native grasslands, so he migrated the farm's small cow herd into an Angus replacement heifer development program. 

"The heifers have allowed me to improve our rotational grazing system and to easily change cattle numbers during times of drought," he says.

Each year, Goodknight shows heifers at the Southwest Expo Fort Worth Stock Show, which is one of the oldest livestock shows in the U.S. and attracts participants from 40 states. His animals have placed in five of the past six years, and he's even won a Reserve Grand Champion title. 

The notoriety and strong customer service has paid off for his business: This year, Goodknight didn't advertise any heifers for sale because previous customers already had spoken for them. "Our reputation is building," he says. "The people who have bought from me are telling their neighbors."

Another reputation-building tool the operation uses is a farm website, www.goodknightfarms.com, which Goodknight's fiancée, Kara Eschbach, recently completed. The site prominently features the company's service-oriented ventures of seed wheat, custom farming and cattle. 

Eschbach posts photos on the website and the farm's Facebook page to build brand awareness and showcase life on the farm.
Personal Development. Although Goodknight thrives in the business and production elements of running the operation, his steepest learning curve has come from leading a team of employees.

"He's such a perfectionist and really particular," Eschbach explains. Goodknight acknowledges even though he'd like to do every job on the farm, it's not his role. 

"The biggest challenge I have faced is the growth of our company and my personal desire to micromanage every task," Goodknight says. "I have learned that though I may have the final say, employees who feel they have a voice will be more vested in their work. The best thing I can do for the company is surround myself with the best employees I can hire, train them well and reward good work."

Goodknight aims to keep growing the operation, but that doesn't just mean adding land. 

"I've never wanted to be the biggest farmer in the county," he says. "I've always wanted to increase production on the land we have. That's all land, crop and pasture."

He strives to never be complacent or satisfied, which in turn means long hours of hard work. It's an approach that has kept the family operation thriving for five generations and, Goodknight hopes, one that will continue to do so for many more.  
---
A Snapshot of Goodknight Farms
Operation: Goodknight Farms is a fifth-generation farming operation in Chattanooga, Okla. Cody Goodknight and his father, John, have an equal partnership. Goodknight is the manager of the operation, which includes 3,200 acres of wheat, cotton, sesame and grain sorghum. It also features a cattle operation with 200 bred heifers and 800 stocker calves. Goodknight custom farms an additional 3,000 acres locally, including 1,200 acres for his mother, Patricia Goodknight. His brother, Charles, also provides part-time help to the operation.
Custom Farming: The team provides custom planting, spraying, seed cleaning, trucking and harvesting for local farms. To build a niche for wheat harvesting, Goodknight purchased a stripper header so straw can remain standing in the field. This results in cleaner grain and fuel savings. 
Team: Goodknight provides general farm management, business planning and oversees new ventures. The farm has two full-time team members, Mark Prater and Clint Braly; a part-time bookkeeper, Cindy Speer; and seasonal help. John Goodknight retired in 2013. Goodknight's fiancée, Kara Eschbach, recently joined the team. 
Leadership And Community: Goodknight serves on the boards of his local Farm Bureau Young Farmers and Ranchers and the Comanche County Cattlemen's Association. He also donates time to his local FFA chapter, 4-H program and the Saddle and Sirloin clubs.
---
How to Provide Positive and Negative Feedback
Management of employees and expectations is an ongoing challenge, says Cody Goodknight, 31, manager of Goodknight Farms in Chattanooga, Okla., and a self-described perfectionist. His goal is to provide feedback to team members after they complete tasks and to go over what went well and what can be improved. 

Managers should strive to offer effective and valuable feedback to employees, says Michelle Painchaud of Painchaud Performance Group, a human-performance consulting firm in Winnipeg, Manitoba, Canada. "We in agriculture are really bad at giving feedback," Painchaud says of farmers and ranchers. "We need to use feedback to ignite high performance." Follow her advice on how to provide feedback in any situation. 
Reinforcement: Use this approach for behaviors you want to repeat 
Describe the specific positive behavior, such as a team member's strong attention to detail.
Explain how the behavior will create positive results for the operation.
Credit the employee for the behavior.
Thank and encourage the employee.
Redirection: Try this framework for behaviors you want to avoid
State the inappropriate behavior, such as showing up late for work. 
Wait for the response and listen effectively.
Remind your employee of the expected behavior.
Ask them to come up with a solution.
Identify a solution, document it and follow up.