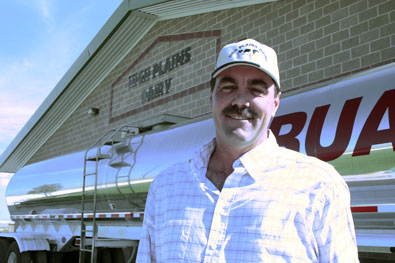 Harry DeWit is living the American dream, starting as an immigrant herdsman and now owning a 4,400-cow dairy in Texas.

You might call Harry DeWit the embodiment of the American dream. Long before he built his cross-ventilated barn and 72-cow rotary parlor on the Texas High Plains, before he was producing 118 million pounds of milk a year and bankers and salespeople were stopping by with handshakes and smiles, DeWit was an immigrant working as a herdsman at a Canadian dairy.

But that just wasn't going to be enough for the Dutch-born DeWit. He was determined to look for the opportunities that would help him realize his goal.

"My dream was to one day own my own dairy, milk maybe 1,000 cows," he says.

Twenty years later, DeWit has that dairy—and a whole lot more. Today, he milks 4,400 cows, employs 51 people and farms 5,100 acres near windswept Friona, Texas, about 30 miles south of Hereford. He has become a U.S. citizen, is raising four children with his wife, Margret, and has earned statewide respect in the dairy industry.

This month, DeWit, 42, receives national recognition as well. He is the recipient of the 11th annual Innovative Dairy Farmer of the Year award, which recognizes the valuable contributions of progressive dairy producers. The award, presented Jan. 12 in Orlando, Fla., is cosponsored by the International Dairy Foods Association and Dairy Today.

"Harry DeWit is one of the most progressive and forward-thinking dairy producers I have had the opportunity to work with in the Southwest," says Todd Staples, commissioner of the Texas Department of Agriculture, who nominated DeWit for the award.

In citing DeWit's innovations at his High Plains Dairy, Staples points to the new cross-ventilated barn and the dairy's reliance on raising its own replacements and forages. Staples praises DeWit's involvement in the state's dairy industry and local community. But the Texas ag commissioner also looks deeper.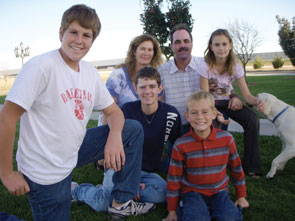 With the dairy's cross-vent barn behind them, the DeWit family takes an afternoon break. From left: Jake, Ryan, Margret, Harry and Kim with yellow Lab, Ziggy. Seated in front is the youngest DeWit, Cody.
"In today's dairy industry, it's important for dairy owners to exemplify three core talents: people skills, cow knowledge and acute business acumen," Staples says. "Harry exhibits these qualities on a regular basis."

While DeWit built one of the first cross-ventilated barns in Texas, he has also branched out into other areas that have boosted his profits as well as his reputation.

In 2006, for example, he and a neighbor became partners in a nearby open-lot dairy. DeWit and his partner then formed Dairy Services, LLC, with another neighboring dairy producer. The nonprofit business allows DeWit and the two other men, David Lawrence and Laurens Schilderink, to collaborate on buying opportunities for feed, medicine, seed corn and more.

They share a dairy performance manager who oversees group purchases. They also employ two service mechanics, one to handle on-farm machinery repairs and maintenance and the second to repair and maintain milking equipment. The business also pools their resources for employee training and information. The group meets once a month to compare costs and operations.

"Three forward-thinking people can come up with more ideas than you can by yourself," DeWit says. "If you hang around innovative people, you get ideas and can work from there."

In addition, DeWit is part of a peer group of seven local dairy producers. They meet every two or three months to compare costs, operations, animal nutrition, milk margins and more.

"Harry is one of the most respected and best dairy producers around here," says Chris Reed, a neighboring dairy producer who's part of the peer group. "If you wanted to learn from a dairy producer, he'd be the one to learn from. He's very progressive and cutting-edge."

DeWit has purchased land every year since he has been in the Texas High Plains. His farming entity, High Plains Farms, now consists of 3,900 acres (which includes the 200-acre dairy site) plus another 1,200 acres that are in a crop-share arrangement.

DeWit is a member and board director of Select Milk Producers, which markets his milk. He's served on the board of the Texas Association of Dairymen since 2004. He also attended the Executive Program for Agricultural Producers in 2005 and 2007. "That was a real boost in helping me to the next step of my management ability," he says.

DeWit also participates in the local Adopt-a-Highway program and 4-H. His children attend Friona schools.

Although he's now settled in one of the nation's fastest-growing dairy areas, DeWit isn't ruling out the possibility of exploring new horizons.

For example, he has been considering various options for a system that would reduce labor by sorting animals with electronic identification.

Beyond that, he sometimes visualizes the one thing his vertically integrated operation lacks: a nearby cheese plant. "We joke about it, but we think about it too," he says. He's even looking at opportunities to partner on another dairy elsewhere.

For now, though, his main goal, he says, is "to be as competitive as anyone out there."

Whatever his future holds, it isn't likely to include much rest and relaxation. "I'm 42 years old and I never sit still," says DeWit, whose day begins at 6 a.m. and ends at 6:30 p.m. "I can't see myself doing it now."

What he can do, however, is revel in a life's journey that's taken him from Holland to Canada, California and Texas. Not blessed with some magic formula, DeWit simply followed the old principles of hard work, careful saving and business acumen. Combined, they catapulted him far beyond his boyhood ambitions.

"Here, you can have the American dream," DeWit says, looking out across the vast Texas landscape. "If you work hard enough, you have a good chance of making it come true. The U.S.A. is a wonderful country where you can make it happen."


---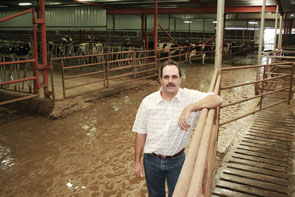 DeWit, standing in his cross-vent barn, says the building's temperature consistency and other advantages have paid dividends in its first year.

A CLOSER LOOK AT DEWIT'S HIGH PLAINS DAIRY

Dairy overview:

9,000 total head (cows and heifers)

4,400 milking cows

2x milking

73 lb./cow/day

118 million pounds of milk per year

51 employees with annual payroll of $1.6 million

 Facility type:

Cross-ventilation for milk cows

Open lot for dry cows and heifers

72-cow rotary parlor

8-second entry time

9.6 minutes per turn

430 cows per hour

Crops grown (5,100 acres supplies all silages to the entire herd):

Alfalfa, corn, sorghum, wheat

Automations and technologies used:

FeedWatch—Software to control and monitor feed accuracy and costs.

Pasteurizers—On-farm pasteurization ensures baby calves receive quality milk.

Remote pivot control—Software to monitor irrigation pivots for problems and to change settings.

Sexed semen—Genetics technology used to generate more heifers and provide more biosecurity.

Automatic footbaths—Provides consistency in the formulation of solution and efficacy for hoof treatment.

Sand lane—A river-like concept that allows for the recapture of sand bedding (the dairy achieves an 85% recovery rate).

Flash milk cooling—Cools milk to a consistent 36°F immediately.

Water conservation—Recycled water on the farm is used to flush barns and then to irrigate crops.

 
---

BARN BLISS

Building one of the first cross-ventilated barns in Texas is one example of Harry DeWit's willingness to innovate. Built in 2007, the fully enclosed barn "provides more consistency for both cows and people," DeWit says. "We can control temperatures, air speed and lighting."

The result is improved productivity, cow health and overall profitability, DeWit believes. Cows rest on sand bedding, leaving the barn only to be milked. That allows them to avoid cold temperatures, wind, snow and heat. When temperatures reach 95°F outside, the barn's 166 fans and cooling cells keep the inside air at 75°F. The barn's winter temperatures never fall below 35°F. Such consistency produces fewer sick cows, DeWit says.

Electricity costs are significant, however. The barn, which is nearly 1,500' long, provides 16 hours of daylight illumination each day. At the same time, fans are working to pull in air from the north side of the barn through the cooling pads and then to draw it out the south side. DeWit estimates summer electricity costs at 26¢/cow/day; winter expenses drop to 13¢/cow/day.

Even so, the advantages are worth it, he says. "Our reproduction doesn't drop in the summer. Milk production and feed intake are consistent on a daily basis. Before, we were milking 3x with BST. Now we're milking 2x with no BST and we have a 73-lb. average."

Mastitis and pneumonia rates in the herd have dropped. The circulating air also minimizes odor in the barn. Most importantly, the cross-ventilated barn has paid dividends in its first year.

"It uses less labor than an open lot and provides a more consistent environment for the cows, and employees don't have to deal with adverse weather," DeWit says.
Bonus content:

Click here to read "DeWit''s American Dairy Journey."

Click here for the Innovative Dairy Farmer of the Year press release.

Click here to watch an AgDay video about DeWit''s High Plains Dairy (once you have clicked the link, choose the January 14, 2009 episode).