Declines tallied $1.86 to gains' $47.98 in the regional averages led by a breakout week for NH3 prices. LP and farm diesel also posted disconcerting increases, each up by three cents on the gallon. Potash was our only downward mover and we expect K pricing to stay near its current range through spring applications.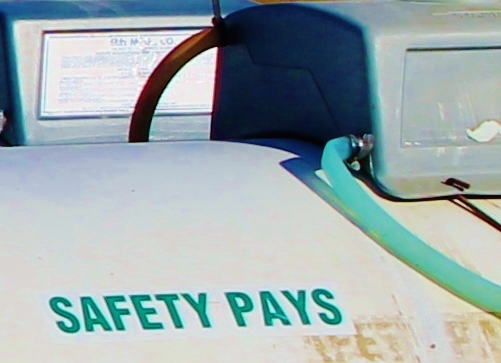 Saturday we heard reports of fieldwork in progress across southern parts of the eastern belt and in to the central plains, but a rainy Sunday put an end to most of that. Rain and cooler temps are in the forecast for the coming week for much of the Corn Belt. For the sake of fertilizer deliveries, a pause in progress is needed and may help to mitigate shortages and price spikes. I also suspect another week of delays will influence December corn futures higher.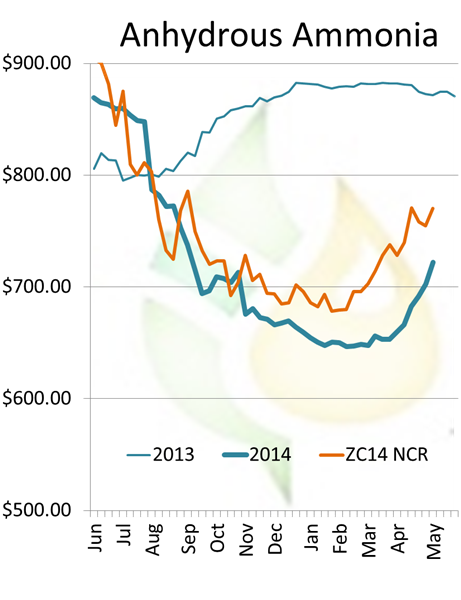 Farmers are definitely getting antsy to plant here in the last week of April, but it won't take much of a break in the weather to get iron rolling. We may look back on this week of rain as a blessing in disguise if fertilizer deliveries can be made during the standdown and traders support higher corn futures pricing. Unfortunately, the trend seems to be for fertilizer resupply at higher prices.
June '14 WTI opens today at $100.54 -- $4.05 lower on the week; May heating oil at $2.98 -- down 3 cents on the week. Farm diesel looked like it wanted to level off last week at a regional average of $3.47. That was above our spring target, however, increased export demand for distillate fuels and the impact of high demand for home heat may be influencing prices higher. We remain optimistic that, as it has in the past, farm diesel will move lower in the coming weeks and declines in WTI will limit farm diesel pricing.
LP ticked 3 cents higher this week -- June '14 natural gas opened today at $4.65, ten cents lower than the same time last week.
Corn Futures --
December 14 corn futures closed Friday at $5.06 1/4 -- that's 9 3/4 cents above the previous Friday's close, putting expected new-crop revenue $15.44/acre firmer on the week at $770.00. With anhydrous priced at $722.04 this week, the ZCZ/NH3 spread narrowed 6.19 points this week, now at -47.96. The expectation is for this number to one day shrink to zero, aligning anhydrous ammonia prices with expected new-crop revenue.
 
-----------------------------------------------------------

Regionally --
Anhydrous firms $19.63 to $722.04; UAN28 is $6.97 higher week-over to $368.56; UAN32 firms $6.55 to $392.33; Urea $1.51 higher to $550.87.
DAP $4.17 higher to $593.40; MAP firms $9.09 to $609.34. Potash softens $1.86 to $466.37.
| | | | | |
| --- | --- | --- | --- | --- |
| Nutrient/Fuel | 4/14/14 | 4/21/14 | Week-over Change | Current Week |
| Anhydrous | $691.50 | $702.41 | +$19.63 | $722.04 |
| DAP | $580.47 | $589.23 | +$4.17 | $593.40 |
| MAP | $597.42 | $600.25 | +$9.09 | $609.34 |
| Potash | $469.79 | $468.23 | -$1.86 | $466.37 |
| UAN28 | $360.24 | $361.59 | +$6.97 | $368.56 |
| UAN32 | $384.40 | $385.78 | +$6.55 | $392.33 |
| Urea | $546.12 | $549.36 | +$1.51 | $550.87 |
| Farm Diesel | $3.47 | $3.47 | +3 cents | $3.50 |
| LP | $1.87 | $1.83 | +3 cents | $1.86 |
| Composite | 403.913 | 406.910 | +5.124 | 412.034 |
---
 Photo credit: D. Michaelsen, Inputs Monitor