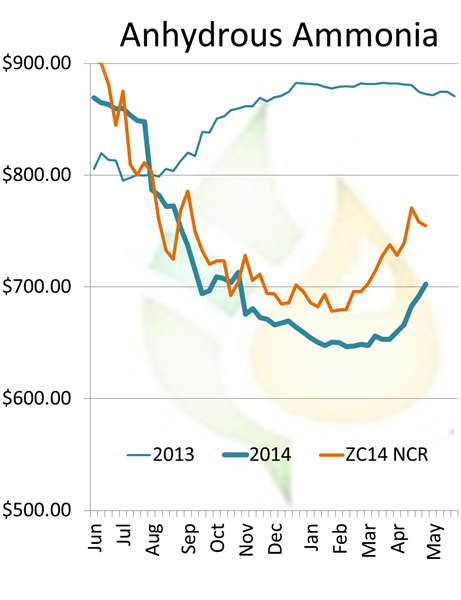 Declines tallied $1.60 to gains' $28.47 in the regional averages led by another week of strength in NH3. Potash and LP were both lower on the week with UAN, urea and phosphate higher. Anhydrous and other starters fertilizers are starting to really move through the central Midwest, but a spotty band of showers will limit fieldwork for the first few days of this week. Farmers are chomping at the bit to get this crop started and after many spent
Sunday celebrating Easter with family and friends, we expect field activity to shift into high gear where the weather allows.
Farm diesel was unchanged from last week -- May '14 WTI opens today at $104.54 -- 98 cents higher on the week; April heating oil at $3.01 -- up 8 cents on the week. Farm diesel looks like it wants to level off here at a regional average of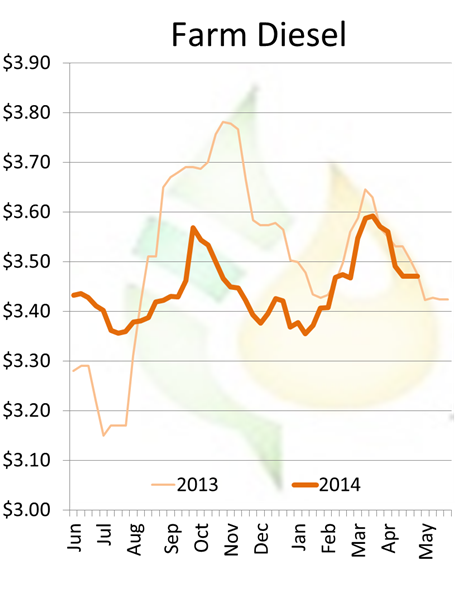 $3.47. That is above our spring target, but the general chart pattern is consistent with the prior year, leveling off at the start of spring fieldwork.
LP moved lower again this week, falling 4 cents -- May '14 natural gas opened today at $4.75, thirteen cents higher than the same time last week.
Corn Futures --
December 14 corn futures closed Friday at $4.96 1/2 -- that's 2 1/2 cents below the previous Friday's close, putting expected new-crop revenue $3.84/acre softer on the week at $754.56. With anhydrous priced at $702.41 this week, the ZCZ/NH3 spread narrowed 21.51 points last week and this week narrows another 14.75, now at -52.15. The expectation is for this number to one day shrink to zero, aligning anhydrous ammonia prices with one acre of expected new-crop revenue.
 
-----------------------------------------------------------
Regionally --
Anhydrous firms $10.91 to $702.41; UAN28 is $1.35 higher week-over to $361.59; UAN32 firms $1.38 to $385.78; Urea $3.24 higher to $549.36.
DAP $8.76 higher to $589.23; MAP firms $2.83 to $600.25. Potash softens $1.56 to $468.23.
Farm diesel is unchanged at $3.47 -- now 3 cents below year-ago but if prices stay put another week, last year's price, which leveled off a week later, will cross below today's price indicating this may be where our spring flat spot is. Strength in WTI crude oil and heating oil futures (up 8 cents on the week) will limit the downside for farm diesel and other distillates. LP softened 7 cents to $1.87 -- now 38 cents above year-ago.
| | | | | |
| --- | --- | --- | --- | --- |
| Nutrient/Fuel | 4/7/14 | 4/14/14 | Week-over Change | Current Week |
| Anhydrous | $682.39 | $691.50 | +$10.91 | $702.41 |
| DAP | $571.42 | $580.47 | +$8.76 | $589.23 |
| MAP | $594.63 | $597.42 | +$2.83 | $600.25 |
| Potash | $469.53 | $469.79 | -$1.56 | $468.23 |
| UAN28 | $359.48 | $360.24 | +$1.35 | $361.59 |
| UAN32 | $384.04 | $384.40 | +$1.38 | $385.78 |
| Urea | $546.00 | $546.12 | +$3.24 | $549.36 |
| Farm Diesel | $3.47 | $3.47 | Unchanged | $3.47 |
| LP | $1.94 | $1.87 | -4 cents | $1.83 |
| Composite | 401.436 | 403.913 | +2.988 | 406.910 |

---