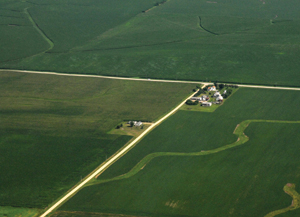 Can you believe the price of farmland these days? Prime ground is selling for $6,000 to $8,000 per acre and even topping $10,000. While off-the-chart land sales are not the everyday norm, farmland continues to gain in value due to several positive factors in the agriculture sector.

"Land values bottomed out in 1987 and we've had a long run since," says Craig Dobbins, an agricultural economist at Purdue University. "In 2009, things got a little tight. We've had a rise in crop prices since then. In the past six months, we've gone from a land market that was somewhat cautious to one that is really bullish."

The surge in grain prices has fueled optimism in the land market. "The dollar has been very weak since 2002," says Purdue agricultural economist Chris Hurt. "That tends to make commodity prices go up."

With the bullish attitude right now, you should be aware of what's driving the current farmland market. Here are some tips for landowners:
Understand the lure of farmland. Even during a recession, we continue to see farmland values increase, says Michael Boehlje, another Purdue agricultural economist.

Boehlje says people are motivated to buy farmland for four main reasons: 1) income potential; 2) low interest rates; 3) development potential; and 4) farmland is a portfolio asset.

"High returns and low interest rates equal higher values," he says. "From a portfolio perspective, land is a pretty attractive asset."
 
Track the key farmland drivers. Brent Gloy, agricultural economist at Purdue, says higher income, lower interest rates and bigger expectations of income growth all create higher farmland values.

"Today, all of those things are working for higher farmland prices," he says. Gloy compares the land market to a rocket ship. "We had it out on the launch pad a few years ago. Then the oil bubble popped and crop prices dropped, which took some of the steam out. I think right now we've got it out and are fueling it up."
 
Don't get caught overanalyzing high-priced farm sales. Boehlje says the recent big buzz in farmland is a sale in Iowa, where an 80-acre tract sold for $13,950 per acre. But, he says, in that same county this past year, a farm sold for $3,258 per acre.

"I think we have to be really careful about which numbers we pick out and how we determine if they are indications of the current land market," he adds.

Gloy agrees that the land market presents challenges. "The land market is a less liquid market than many of the markets we're used to dealing with. Use caution when looking at some of those spectacular [land] prices we've seen."
 
Look for history lessons. Dobbins says he can easily draw comparisons between agriculture in the 1970s and 1980s and the current housing situation. Agriculture saw heavy borrowing, variable-rate interest loans and a sudden change in government policy.

"Interest rates shot through the roof," Dobbins says. "We had a whole bunch of foreclosures in agriculture and land got pushed onto the market quicker than it could be absorbed, just like what's happening now in the housing market: Bankers didn't want to be landlords, so they shoved those houses onto the market."

Dobbins' advice: Keep an eye on government policy.