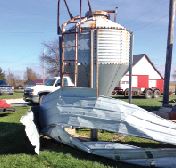 Make sure your insurance coverage protects your farm
In the short time span of an afternoon, several powerful tornadoes skidded through central Indiana, leaving flattened houses, downed trees and crumpled barns. For Russiaville, Ind., farmer David Etherington, the damage included his farmstead, but thankfully, not his home.

"We lost the west end of our two quad barns, which each hold 4,000 head of hogs; the corner of the shop; and our grain leg was twisted," he says. Also, the debris from the hog buildings blew into other buildings nearby.

First-hand experience can be a stern teacher, and Etherington says this process has taught him about the ins and outs of insurance. "When you go through a storm like this, you understand how much you have to lose and what everything is worth."
Know your options. Different insurance companies tend to have slightly different named products. Brandon Nicol, County Financial senior farm underwriter in Bloomington, Ill., says most farmers choose two types of insur­ance—one for buildings and one for farm personal property.

Farm building insurance is typically differentiated by the type of peril or damage they are protecting against. Nicol says most of his clients select a broad peril coverage, which includes all basic perils (fire, lightning, vandalism, etc.) plus the weight of ice and snow and freezing of plumbing. "Those two extra options are important to farmers with nice buildings," he says.

You should ask your agent about the specific details of the various options. Jerry Poston, State Farm agent in Carthage, Mo., suggests making a list of your area's most common natural dangers or disas­ters, so you can make sure those causes of loss are covered.

Nicol says another option his clients choose is debris removal insurance. "We know farmers don't want to spend a ton of money insuring an old building they won't replace," he says. "But it will cost them a significant amount of money to remove it." This coverage pays for the removal of a building that is 51% or more destroyed.

Don't skimp on the worth of your buildings, Etherington says. "It is easy to put a low value on your outbuildings, as many are older and aren't that nice," he says. "But you should keep accurate values on your buildings. That will save you money in the long run."

Poston agrees. "We use an estimating tool to determine the value of a building to replace," he says. "Farmers may say they just want $5,000 of coverage on a building. But that may be what they paid for it 20 years ago."

He says farmers need to factor in the appre­ciation and depreciation of buildings, along with the rebuilding costs.
Update your inventory. An important item to remember is that these insur­ance options cover farm structures, not the machinery, animals or tools inside. Those items should be covered by a type of personal farm property insurance. Most farmers, Poston says, tend to go for a blanket policy, which takes the total worth of the personal farm property and insures up to a certain percentage of that total.

For this type of coverage, farmers provide an inventory of their farm property. The biggest mistake farmers make, Poston says, is not updating this inventory. With the past few years of high profits, he's sure many farm inven­tories are not up-to-date.

"I tell my clients to inform me of changes," he says. "Many times, they didn't have enough covered, or they were paying more than they should." He advises an annual review of insurance policies.  
You can e-mail Sara Schafer at [email protected].