Studying corn, understanding its nutrient and water needs, and taking a timely approach to agronomic practices builds crop yields, says this south-Georgia farmer.
In Randy Dowdy's experience, good soil is not a prerequisite to growing outstanding corn yields. Instead, a time-sensitive systems approach to growing corn is what makes consistently high yields possible, says the Valdosta, Ga., corn grower and yield champion.
Dowdy knows what he's talking about. Despite having soils he describes as mediocre – with organic matter of less than 1% and a caution exchange (CEC) of 8 or less, which is poor (CEC is a measurement of how well soils hold onto nutrients) – Dowdy consistently averages irrigated corn yields in the high 200s to mid-300s.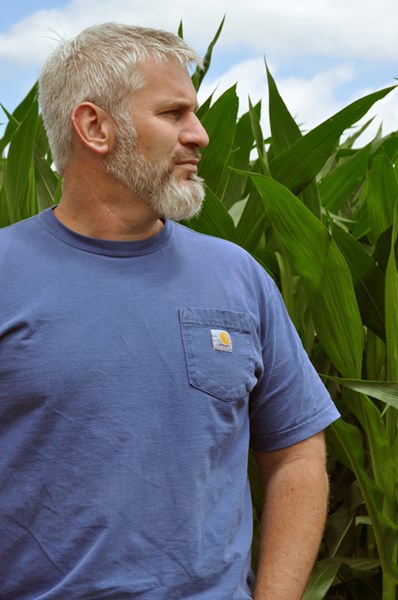 Georgia farmer Randy Dowdy placed first in Georgia and second nationally in the 2011 NCGA yield contest in two categories with yields of 352 bushels and 364 bushels per acre, respectively.
He placed first in Georgia and second nationally in the 2011 NCGA yield contest in two categories with yields of 352 bushels and 364 bushels per acre, respectively. He also won the 2010 state yield contest and the National Corn Growers' Yield contest for Georgia, in the irrigated division, with 279 bushels per acre.
This year, because of too much rainfall, excessive cloudy days, and chemical stress his overall field averages varied as much as 150 bushels. Even so, Dowdy looks forward to hearing the results of the NCGA 2012 yield contest as he has entries as high as 374 bushel per acre.
The interesting thing about those wins and Dowdy's subsequent bin-busting yields in the last three years, is that he is a farming newcomer. He started growing corn only six years ago after buying some land no one else wanted to farm and that he describes as "so eroded you could hide a truck in the washes."
Faced with that handicap, Dowdy decided early on to focus his attention on two things: corn plant physiology—how corn grows and develops—and, secondly, on best management practices that would support corn development at each growth stage. Dowdy will tell you those two factors, along with his faith, formed a solid foundation for his success.
"That and the fact that I'm real competitive with myself," he says, with a laugh.
While Dowdy enjoyed winning the yield contests, he is quick to say that producing profitable high yields is the most important endeavor.
"I'm not just trying to win yield contests but to be as efficient as possible and get the best return on investment I can," he says.
Here is a summary of what Dowdy considers as some of his best management practices:
Evaluate corn plant health and determine what practices will foster vigorous growth and remove plant stress at every growth stage. A self-described student of corn, Dowdy walks his cornfields three or four times a week to evaluate the crop. He also takes tissue samples every week to 10 days during the growing season to determine whether the plants will benefit from additional nutrients. He has determined his crop requires "spoon feeding" of nitrogen and sulfur about every seven to 10 days to fuel its growth. He accomplishes this via fertigation, the practice of using irrigation to apply fertilizer.
"If I find a nutrient deficiency, I address it," he reports, adding, for example: "The key to maximize corn production is to be a step ahead of removing plant stress."
Once the reproductive determination phase is complete corn yield loss is irrevocable. Dowdy points out that plant stress occurs in various forms, which include plant population and spacing, compaction, the lack of weed control, chemical stress, disease pressure, temperature, moisture stress and nutrient deficiencies.
"Any one of these stressors can and will reduce kernel and ear count where yield is ultimately determined," Dowdy says "I know what my yield goals are and realize that I have just begun to understand what actions must be proactively addressed to accomplish those yields."
Timeliness is paramount to success. Dowdy is mindful that while every bag of premium quality seed corn has the potential to produce up to 600 bushels per acre, management and Mother Nature determine final yield outcomes. Because farmers can't control the latter, Dowdy believes they must be masters of the former from the time they plant until they harvest. In the process, every management practice must be made in a time-sensitive manner that captures the yield potential.
Notes Dowdy: "Many growers, chemical and fertilizer sales people have said they can increase yield by the use of certain products. I believe one doesn't increase yield but rather they preserve or capture the yield potential that already exists."
"Every time you're late you pay a penalty—you cost yourself yield," he stresses. "Know what the crop is doing or going to do next, and stay a step ahead of it."
Don't delay harvest. Dowdy plants starting the first week of March and begins harvest about the third week of July, once corn reaches a moisture level of 25%. His goal is to complete harvest by the time the crop reaches 21% moisture. "One reason for that is because I always attempt to double crop; this year, I grew soybeans behind my corn," he explains.
The second reason he harvests with high moisture is because he doesn't want to chance that the mature crop will fall victim to strong winds or a harsh thunderstorm.
"I try to mitigate my risks by spending a little money on propane and paying the penalty to dry it," he reports.
Think and behave outside the box. Talk with and ask questions of other successful farmers, university Extension specialists and company representatives, advises Dowdy. Try some of their suggestions and ideas. Those that work, adopt on your farm; those that don't, simply set aside.
"Just because you've always done something a certain way doesn't mean it's the best way; there's always room for improvement," he says.
In 2012, Dowdy had the privilege of working with a group of growers that were willing to test his approach to growing corn. Each grower implemented a number of Dowdy's production practices, which he has detailed in the form of a production guide.
"It is very humbling and fulfilling when a colleague replicates your production methods and in return achieves yields unlike any year prior," he says.
For 2013, Dowdy will continue to experiment with plant populations and different tillage practices.
"The limiting factor with a twin row system is proper subsoil fracture," he contends. "I feel you need to have the ability to subsoil underneath each row."
By improving his subsoil fracture, he hopes to reduce compaction, or horizontal layers, which impede corn root growth.
High plant populations provide another contribution to high yields. This year, Dowdy tested plant populations from 32,000 up to 52,000 per acre. Most of his corn crop, which includes 13 different hybrids, is planted at populations between 36,000 and 42,000.
Pay it forward. Dowdy credits God for his ability to grow corn as well as those individuals who have helped him along the way. "God has blessed me, no doubt about it," he notes. "I want to share what I know with other farmers, and I hope they'll then help someone else as well."
---