Behind the curtain of FamilyFarms Group
The question Allen Lash began with, six years ago, was: How is it that solid farmers, admired and emulated by everyone, can one year be at the peak of their power and just a few years later be struggling in the middle of the pack or just plain gone?
After studying changes in the hog, dairy and beef sectors, Lash conclu-ded that the only way crop farmers could avoid being swallowed whole by consolidation was to standardize their processes and pool their acres. He and partners Harold Birch and Leroy Jones (who is no longer with the company) founded FamilyFarms Group in 2007 to change the way farmers think about business. Today, the group comprises 43 large farms in the U.S. and Canada, representing about 400,000 acres.

"Not every farm will survive in this era of consolidation," says CEO Lash. "If I could change the loss of farmers, I would. I have tried, but I don't believe anyone can."

Not every farm will fit well with FamilyFarms' strategies, either. For farm "team" members, those strategies include allowing FamilyFarms inside their business for evaluation of their financial, human resource, equipment and technology systems.

The group believes in individualized, standardized processes supported through continual training by its staff. That might mean farmers have to change how they do business. The group calls it the "NFL Concept," mirroring how the NFL is a participatory, interdependent system; each football team has its own way of doing business, but the system needs everyone. (FamilyFarms will not disclose its fee structure.)
By Invitation Only. FamilyFarms personally invites producers it believes have the right attitude and desire. Members pay a fee and go through a screening process. For years, the quietness of the group created intrigue—and also turned FamilyFarms into one of the industry's most talked-about secrets.

"We weren't trying to be mysterious, we just didn't have anything to talk about," says Karmen Mehmen of Plainfield, Iowa, an original member investor. The Mehmens grew their operation threefold since 2007 and formed a partnership with their son and daughter-in-law. They credit their growth to FamilyFarms systems.

"What we learned isn't rocket science, but we wouldn't have learned corporate business principles anywhere else in agriculture," she says.

Lash says two-thirds of the farms that join are like the Mehmens': financially sound but wanting to grow. The smallest farm to join FamilyFarms is about 2,000 acres. When Lash started the company, he made a list of farm businesses of a certain size and began calling them.

Today, he is not looking for size but a certain mentality. "We want farmers who are willing to accept that things are changing," he says.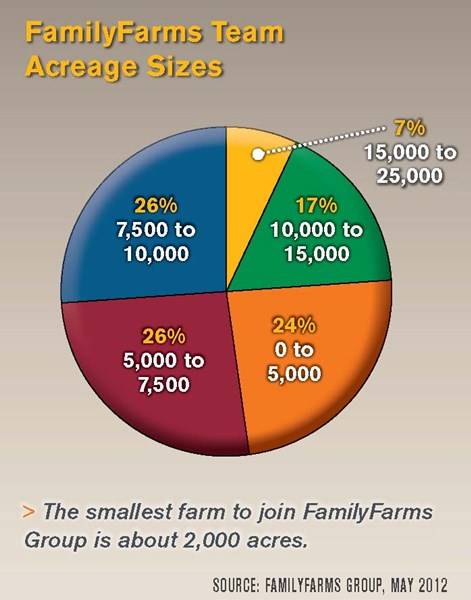 Nontraditional Funding. In the aggregate, FamilyFarms has about 400,000 acres under production, generating more than $250 million in annual revenues. Farm teams are growing at a rate of 15% to 20% per year, notes Jerry Best, chief financial officer. He says the company expects to grow acres significantly by 2013.

To that end, FamilyFarms has hired Janine Yorio, a private equity investment specialist, to obtain growth capital for members from nontraditional sources. This capital will be used for land acquisition and debt restructuring.

"All of our teams are looking to grow," Yorio says. "We are finding nontraditional lenders who will make flexible loans with higher balances and better terms for the farmers."

Yorio is visiting with hedge funds, pension funds, national commercial lenders, wealthy families and even endowments at places such as Harvard University.

"There is money out there, but the wealth doesn't know anything about agriculture," she says. "We can match the two groups together." Primarily, Yorio works on finding capital for teams, but she might seek capital for the company to purchase enhanced technology.

Lash says any rumors that members are pushed to grow acres at all costs are simply not true. Farmers who have been members and left FamilyFarms, however, say that growing individual team farms had been a constant driver for Lash.

The Reiss family of Plains, Kan., were early investors but left FamilyFarms several years ago. Their reason? "We didn't like the focus of growing at a rapid rate," says Stan Reiss. "Every situation is different, and we believed that including other farm families in our operation was a better growth strategy. FamilyFarms was supportive in this idea, but ultimately there were philosophical and cultural differences."

Jeff Haferkamp, chief operating officer of FamilyFarms, admits the model doesn't fit every farmer.
Focus on ROI. Today, the company is working to boost returns to members by increasing profit and reducing risk, promoting farm legacy and building value in farm teams for when the owner wants to sell. Each team is assigned a "coach" to hold it accountable to goals.

The average team gains $189,000 per year in revenue from working with FamilyFarms, Haferkamp says. Savings come from reduced costs, growth, better landowner negotiation and human resource training. He says there is an additional $49,000 benefit to members just in competitive advantage compared with non-FamilyFarms farmers.

There also is a premium for integrity. Asking the right questions goes a long way toward finding out if FamilyFarms is the right fit.

"We see great growth for our business and members," Lash says. "Our farm teams are going to be hard to compete with."