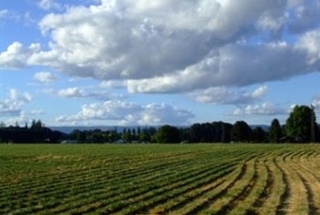 In the next few years, U.S. agriculture will see an influx of private capital like never before. For many, the stock market is not the investment vehicle it was 20 years ago. Investors are recoiling from its volatility and are increasingly skeptical of a Wall Street that seems to depend more on computerized trading practices than company fundamentals. 

Not surprisingly, my firm has received more calls from groups and individuals interested in investing in agriculture. They're drawn to a vital industry with assets they can touch and owners they can reach—and they recognize the rising consumer trend to connect food and fiber back to the farm.
The players with the capital to invest in farmland and agriculture include:
Retirement plan holders. Many people sitting on sizable 401(k)s and Individual Retirement Accounts (IRAs) are looking to diversify their investments. What better place for their money than rural America, especially among those with roots in agriculture? Self-directed IRAs offer flexible options to place retirement funds.
Farmers looking to exit. An increasing number of farmers want to transition the farm but find themselves without an appropriate beneficiary or buyer. Rather than just selling assets, some farmers are trading their farm for shares in something bigger. They benefit by staying involved in the farm they once owned, and the new owner benefits from their capital, experience and knowledge. 
Employees. Rather than giving bonuses, consider offering team members a piece of the action. This is a tremendous way to incentivize outcomes and align organizational objectives with employee goals. This structure also provides a strong recruitment and retention tool at a time when quality labor is hard to find. 
If properly structured, you can retain complete control of the farm while tying employee compensation to their ownership interests. This can be actual ownership or so-called "phantom" ownership. Employee capital can be used for growth or to facilitate the sale of the farm to key team members.
Institutional investors represent potential players to finance growth or transition. These funding sources include:
Venture capital (VC). VCs fund emerging companies or ideas. I see VCs most excited about agricultural technology, rather than production agriculture.
Private equity (PE). These investors capitalize on proven businesses. The 3,800-plus PE firms in the U.S. have amassed nearly half a trillion dollars for investment, yet PE money is struggling to reach production agriculture. This stems from three obstacles. 
First, farm-related businesses often lack the quality financial statements and reporting PE firms demand. Second, farms often make decisions that benefit the family, not the bottom line. Finally, PE doesn't understand agriculture. PE investors are savvy, however, and some are quickly learning the industry. What's more, we're seeing "farm kids" make their way to Wall Street, gain access to capital, then bring that capital and their agriculture knowledge back to the farm business.
Real estate investment trusts (REITs). These investors have been active the past few years. For corporations seeking to grow or exit, a unique opportunity exists to partner with ag-focused REITs.
No matter which investment opportunity appeals to you, it's imperative you consult with experts first. Most forms of equity financing are heavily regulated and lead to significant penalties if botched. A poor 
capital-sourcing decision will put you out of business. Do your due diligence, but consider taking advantage of investors' growing interest in agriculture. 
This column is not a substitute for financial advice.