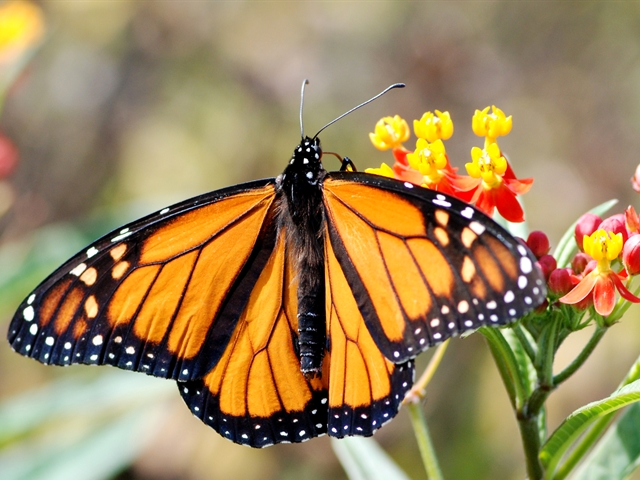 By Julie Ferrell, Ames Tribune, Iowa
Several Iowa organizations are joining together in an effort to improve the monarch butterfly population across the state.
Established through Iowa State University's College of Agriculture and Life Sciences, the Iowa Department of Agriculture and Land Stewardship and the Iowa Department of Natural Resources, the Iowa Monarch Conservation Consortium has been created in response to a decline in the butterfly population in recent years.
Partners in the consortium include state-wide farming and conservation organizations, agencies and companies. The collaboration follows a national campaign by the U.S. Fish and Wildlife Service, which will establish monarch conservation projects and plant 200,000 acres of milkweed across the country.
Brian Meyer, director of college relations in ISU's College of Agriculture and Life Sciences, said discussions about forming the group began about a year ago, but the "dramatic decline" in the monarch has been a concern for the last decade.
Meyer said several factors have led to the decline, including a loss of monarch habitats through urbanization in the U.S. and Mexico, where the population often travels over the winter season, as well as a decline in milkweed and other plant resources through farming practices.
But Meyer said the key to starting the consortium will be to raise awareness throughout the state.
"This is a really iconic species not just for Iowa, but a large portion of the country," he said. "We need to be aware that there are ways we can work together to bring some of this habitat back. It may be on farmlands or highways, or even individual gardens, but awareness is really the starting point."
ISU will be leading the research to develop cost-effective ways to maintain milkweed and other nectar-producing plants adult monarchs need to survive. ISU is already planting milkweed seedlings on research farms in the state, and planted 10,000 seeds for nine milkweed species last month. Those seedlings will eventually be transplanted into plots on 13 ISU research farms.
But Meyer said other state organizations will be busy creating other aspects of the consortium, including the development of education programs to be given to youth groups like 4-H clubs and FFA chapters.
"We think Iowa has a special role to play here. It's important both nationally and in Iowa that there are ways to think about bringing the habitat back," he said. "Maybe what we do here might develop into other states or might become a template other states could use."