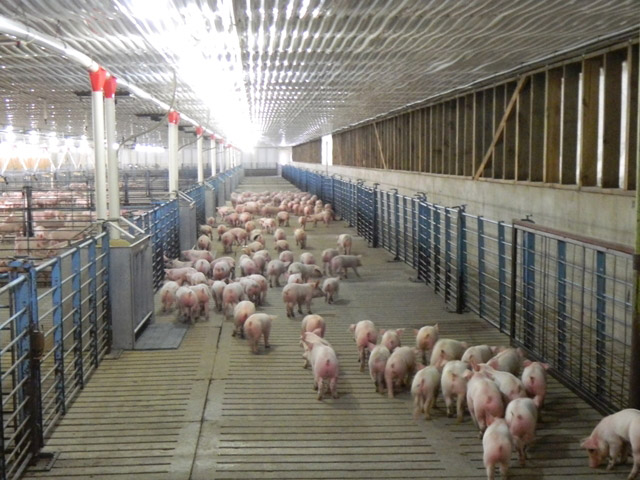 Iowa Gov. Terry Branstad on Monday praised Gov. Chris Christie's veto of a ban on crates for sows, but says the New Jersey Republican's action wasn't influenced by the 2016 Iowa caucuses.
Branstad called Christie's Friday veto of legislation outlawing gestation crates a "good decision" and argued the action allows farmers to protect young pigs from being crushed by heavy sows.
New Jersey has few hogs but Iowa raises more than 20 million hogs annually. Some argue Christie's veto was influenced by Iowa's early voting status. Christie is weighing a bid for the 2016 Republican presidential nomination.
But Branstad, who noted he had discussed the issue with Christie, said he doesn't think presidential politics was a factor in the decision.
"I did share with Gov. Christie my personal experience and my interest in this and that of the Iowa Farm Bureau and the Iowa Pork Producers," said Branstad, a Republican. "I give him credit for listening to and understanding that this is something we're very concerned about."
"And it does impact consumers as well," he said. Accidental deaths of young pigs can reduce the supply and raise pork prices, Branstad said.
Gestation crates became common in the 1980s as a way to standardize feeding of sows and keep the animals from fighting with other pigs. But in the past couple of years, more companies have begun phasing out the crates as consumers have responded to animal welfare advocates who argue it's cruel to confine sows to the narrow stalls.
Wayne Pacelle, president and chief executive officer of the Humane Society of the United States, responded with a statement noting that gestation crates typically are used before piglets are born and that the bill vetoed by Christie didn't restrict the use of other crates that could protect baby pigs.
The decisions and positions of would-be presidential candidates on issues related to Iowa often are viewed through a political lens.
Former Minnesota Gov. Tim Pawlenty claimed to be taking a stand against farm subsidies in 2011 by calling for phasing out a tax credit for ethanol, even though Iowa Sen. Charles Grassley already had said the tax credit had served its purpose of launching the renewable fuel additive.