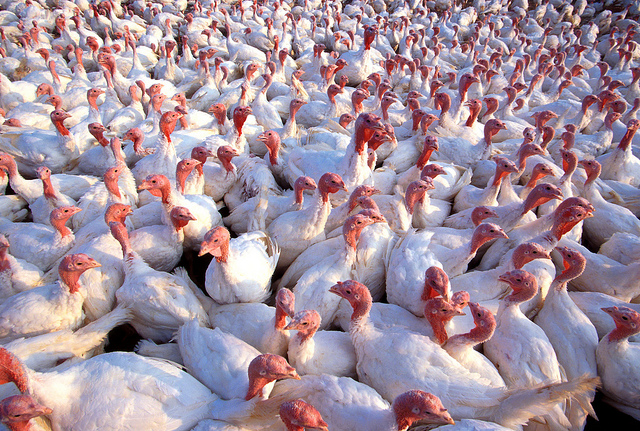 Iowa poultry farmers are bracing for the possibility that bird flu will return this fall when wild birds migrate south, but hope that won't happen.
Poultry and egg farms in 15 states were affected by the disease this spring, with the biggest impact in Iowa, Minnesota and Nebraska. About 48 million birds died from the virus or where euthanized to prevent its spread, and the industry is just starting to recover.
Agriculture officials say migrating birds might bring the disease back — and it may have mutated by then.
"USDA has been watching these birds up in their nesting areas," Iowa Agriculture Secretary Bill Northey said. "The birds are mixing with each other, so they're carrying this disease."
The Iowa Poultry Association's Randy Olson said the industry is doing everything it can to prevent another outbreak by adopting tighter security and improving their facilities, the Waterloo-Cedar Falls Courier reported.
"I know the USDA is planning and preparing for potential outbreaks this fall across all major flyways in the U.S.," Olson said. "That doesn't mean that they know there will be infections, but considering the experience of this spring, I think they, like everybody, are just trying to anticipate and be in a position to react quickly if something does happen," he said.
Tony Halsted says he's grateful that his Hoover's Hatchery near Rudd escaped bird flu in the spring.
Halsted said he has divided his birds up and moved some flocks into Missouri to make sure his operation wouldn't be crippled.
"For us, if (flu) were to impact on one of our farms, it wouldn't impact the whole operation," Halsted said. "If you have avian flu in a building, it's an 8-mile radius and anything in that area has to be destroyed. We make sure we don't have places that are that close."
Iowa's egg-laying was hit hard, and Olson said it's likely to take 12 months to 18 months to replace the birds that were slaughtered.
"I've heard some encouraging reports from farmers that might have some birds in barns as soon as September," he said. "That doesn't mean we're going to be full production anytime soon, but between September and January, I expect most barns to have some degree of repopulation."