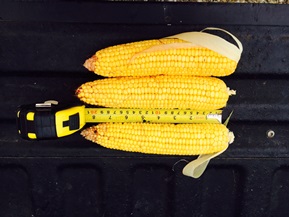 Mike Berdo grows corn and soybeans in Washington County, Iowa, but even he's surprised by the quality of his state's crop this year.
"From what I saw, it's better than I anticipated," said Berdo, who scouted six Iowa counties on Thursday with the Eastern leg of 2014 Pro Farmer Midwest Crop Tour. His average yield? 191.6 bu. per acre over seven stops, including a 231.2 bu. per acre in Iowa County. "It changed my mind," he said of his time in the fields. "I didn't think it was going to be that good."
On the western side of the state, the fields also looked promising. As scouts entered Western Iowa, they quickly noted higher ear counts and bigger populations compared to previous stops. "It was as green as a garden," agronomic consultant Jason Franck said.
The numbers agreed with the scouts' assessments.
Based on 360 samples from cornfields in all the state's nine crop districts, the Pro Farmer crop tour's average estimated yield for Iowa is 178.75 bu. per acre, an increase of nearly seven bushels per acre. Both grain length, which averaged 6.71 inches, and kernel rows, which averaged 15.99, increased slightly.
Overall, Iowa produced 2.16 million bushels of corn in 2013, with an average yield of 165 bu. per acre, according to USDA-NASS figures.
But just as in Illinois, the sleeper crop of this year for Iowa may be the soybeans. "From what I've seen, [the soybean crop] looks better than Illinois," said Illinois farmer Pat Solon, whose scouting group had an average pod count of 1,711 across seven Iowa stops.
It proved to be a hint of the figures to come. According to scout reports, Iowa pod counts for a 3'x3' plot also jumped 27 percent year-over-year to 1,173.59. That's a significant increase, but with a caveat: "We still don't know what size those beans will be," Solon noted. "Will they be good-size beans or will they be [the size of] BB" pellets?
Last year, Iowa produced 411 million bushels of soybeans with an average yield of 44.5 bu. per acre, according to USDA-NASS.
Minnesota's soybean farmers also look like they are in good shape. According to crop tour data, the average pod count for a 3'x3' plot in Minnesota was 1,031.54, which represents a 19 percent jump compared to last year. Overall, Minnesota produced 271.4 million bushels of soybeans in 2013, with an average yield of 41 bu. per acre, based on USDA-NASS figures.
In contrast to corn, Minnesota soybeans still have relatively high yield potential for this year, said scout Steve Fellure of Attica, Ind. Assuming timely rains, adequate temperatures and no early frost, he believes soybean conditions could potentially get better by harvest over what he saw in fields Thursday. Both the size and quality of the soybeans Fellure saw were quite good, he said, but "beans could be a fooler."
Unfortunately for Minnesota corn farmers, their crop is not in the same shape as soybeans. The late and wettest spring in history not only pushed farmers against planting deadlines, but robbed the corn crop of nitrogen. Not only that, this was followed by an additional stress on the crop forced by the virtual shutdown of the water spigot in July and August—until rains finally came this week, during the tour.
"During a four-day period in June, they got 12 to 16 inches of rain," said Chip Flory, who led the tour's Western leg and talked to a farmer whose area got a staggering 24 inches of rain in that same period.
The effects were obvious. Ear counts, grain length, and kernel rows were all down compared to last year, resulting in an estimated yield of 170.76 bu. per acre for Minnesota, a drop of more than 11 bushels per acre compared to 2013. (The USDA's August report forecasted an average yield of 168 bu. per acre for the state.) "The crop has a way to go," says veteran scout Tim Gregerson, who farms near Herman, Neb., and whose group saw yields between 170 bu. per acre and 172 bu. per acre.
Others were not so lucky. In Sibley County, scouts reported seeing a stand with no ears to count.
"This is God's country in Southern Minnesota, and Mother Nature just brought it to its knees," said Franck.
Last year, Minnesota produced 1.3 billion bushels of corn, with an average yield of 160 bu. per acre, according to the USDA-NASS.