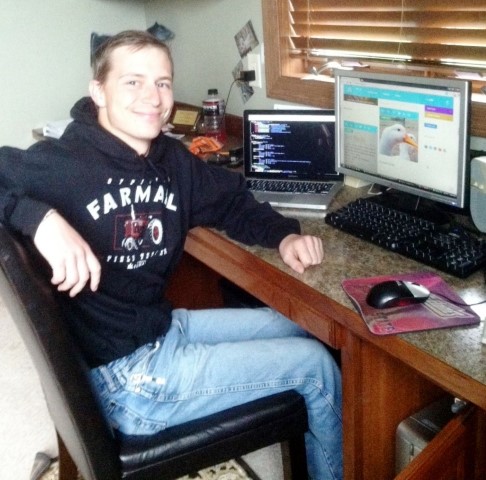 When life gives you lemons, you make lemonade. But what do you make when life punches a hole in your eye?
When an on-farm accident put fifth generation farmer Nathan Legler on the sidelines three years ago, he built a website for farmers.
"I was putting new 2-inch points on our disk ripper chisels and was having to remove them by hammering out a rolling pin," he recalls. "The last one wouldn't come out with a hammer, so I had to grab the air punch, and when I went to use it I didn't have it pressed against the pin close enough, and a piece of the air punch broke off and flew up through my eye."
So what began as an uneventful day on the farm ended with a team of surgeons huddled over him at the University of Iowa Hospital and Clinics.
The story has a happy ending – Legler kept his 20/20 vision against all odds. "It's a miracle, hands down," he says.
Even so, Legler was heartbroken during the aftermath of the accident. The twenty-something farmer had just graduated from Iowa State University and returned to the family operation just a month earlier. Now, as part of the recovery process, he was supposed to lay flat as much as he could for three months. That meant no farming.
What it did mean, however, was his fair share of restlessness. Watching television and movies all day gets old pretty quickly, he says. So Legler revived a hobby he started in college instead.
"Being stuck on the couch all day drove me nuts, so I started teaching myself to code and design websites to keep me occupied," he says.
The fruits of those labors, a website called OurAg.com, is something all farmers can enjoy today, he says. Legler, an avid Facebook and Twitter user, says although he enjoys those sites, they aren't always good at creating a farmer-centric community.
"Facebook is loaded with information that's interesting to me but also irrelevant to farmers," he says. "So much great information is gone in five minutes because it gets buried under cat videos and baby photos."
About Twitter, he adds, "There's so much more to say about agriculture than 140 characters."
With OurAg.com, Legler has tried to bring in his favorite elements from other websites. (The design feels like a blend of Facebook, YouTube and BuzzFeed.) And the focus is clear – the site is for sharing content about agriculture through news items, photos, videos and more. Legler says the website is easy to use, and you can register through your existing Facebook account.
The website is a work in progress, but Legler says he hopes other farmers will give OurAg.com a try and join this unique online community. His latest development has been launching an app for Apple devices that he's billing as "Instagram for agriculture."
"This is a chance for farmers to showcase agriculture so people better understand what goes into their food, clothes and other products they use daily," he says. "The app has tons of features for sharing on other apps, plus a ton of effects for photos and videos. Everyone on the beta launch has enjoyed it, and it will continue to get better."
Meantime, there's another happy ending to Legler's story. With his eye fully recovered, he is able to farm once again.
"I'm a farmer first," he says.
Want more? Talk about OurAg and other farm technologies on our discussion boards. Join the conversation today.