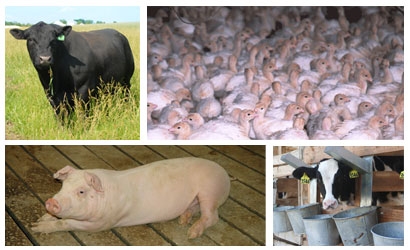 The Iowa commission that oversees water quality approved increased inspections for livestock farms on Tuesday over the raucous protests of environmentalists who wanted much tougher rules.
Dozens of protesters shouted "We won't stop until you clean it up," after the Iowa Environmental Protection Commission passed by a voice vote the new rules, which opponents see as allowing pollution from intensive agriculture.
The rules, supported by farm groups, satisfy an agreement the Iowa Department of Natural Resources signed with the U.S. Environmental Protection Agency in September 2013. The deal was struck after the EPA threatened to take over federal Clean Water Act enforcement if state officials didn't step up livestock farm enforcement.
Iowa, the nation's leading corn, pork and egg producer, struggles with the difficult balance between encouraging livestock production that generates more than $13 billion a year in sales and handling the waste generated by 60 million chickens, 20 million pigs, 9 million turkeys and 4 million cows.
The rules deal with requirements that livestock operations be specific distances from rivers and streams and details when owners are subject to fines and penalties for failure to comply with regulations. It also establishes inspections of farms and permits that could be required if a facility spills manure.
The environmental group Iowa Citizens for Community Improvement had asked for five members of the commission to recuse themselves from voting because they own, operate, or have financial ties to livestock farms. None did and the vote brought the shouts from protesters.
One protester, Debbie Bunka, of Ames, was escorted from the room by an Iowa State Patrol trooper when she refused to stop talking even though Commissioner Max Smith said she was out of order.
The commission had earlier held six public hearings around the state on the rules.
The environmental group warned that Iowa cities could face a situation similar to that of Toledo, Ohio, where toxins caused by algae blooms in Lake Erie shut down the water supply to about 400,000 people earlier this month.
"Sooner or later it's going to be us," said Cherie Mortice, a retired teacher from Des Moines and an Iowa member of the group. "Protecting our waterways is your duty and you must set aside your own personal self-interest."
The group wants all farms which spill liquid waste to be required to get a permit and they called for a three strikes rule that would shut down farms that repeatedly spill contaminants into rivers or streams.
Iowa natural resources director Chuck Gipp said state law prevents the agency from implementing rules more stringent that the EPA. That's why the rules the commission passed echo the EPA regulations.
A number of hog and cattle farmers defended livestock operations, saying many spend tens of thousands of dollars on manure handling equipment and erosion control.
Randy Dreher, a hog, cattle and crop farmer from Audubon said farmers are proud they have significantly reduced erosion since the 1970s while finding ways to produce more food with fewer resources and less environmental impact. Critics don't understand how much farmers work to manage manure and control erosion.
"It's pretty convenient to go to the market or to McDonald's and feed ourselves. A lot of the people behind me with full stomachs are chastising what farmers do every single day," he said. "I think farmers are doing their job and agencies that oversee us are assisting us in that process."
The rules next go the Administrative Rules Review Committee, a legislative panel that will hold another public hearing before considering whether to accept them.
If passed by the committee, the rules go into effect Oct. 22.