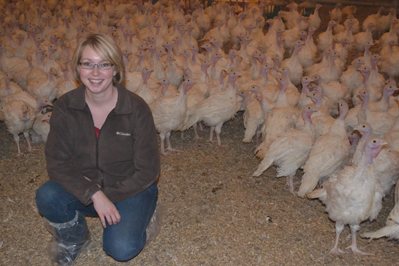 It's a busy week. Thanksgiving menus are being finalized, the Holiday tables are being set and turkeys are being laid out to thaw. Thanksgiving is especially important to many turkey producers. After all, their livelihood is the staple of many Holiday dinners. One Iowa turkey producer has been able to weather the storm better than other livestock producers, so this Thursday, Katie Olthoff will be giving a lot of thanks.
She's a wife, mother, turkey farmer and avid blogger. So, as Olthoff makes her rounds through her newly renovated barn in Stanhope, Iowa, surviving 2012 comes as a huge relief.

"Feed is one of our biggest input costs. So, when corn prices rise like they have this year, that definitely puts a strain on our farm," says Olthoff.

Farming can be extremely difficult in years like 2012 when Mother Nature doesn't provide a key ingredient to farming—moisture. As the crops in Iowa grew parched, struggling to get enough rain, Olthoff knew 2012 would be a difficult one for many livestock producers to endure.

It's been more than just the drought. As the temperatures skyrocketed this summer, the heat also threatened her flock.

"Overnight one night, we lost 5% of one barn, because it didn't cool down overnight," Olthoff says. "The heat was just really hard on them."

Despite those challenges, Olthoff has been able to cushion some of the potential losses through good management practices.

"We've tried really hard to minimize our inputs in other areas and try to be very efficient and use the best management practices we can to make sure that we have big healthy birds going to market," she explains. "And then that's going to help minimize any losses for us."

She says those management practices, combined with being proactive, has been the recipe helping keep the Olthoff's in the black this year.

"Energy efficiency is always huge for us," says Olthoff. "We have tunnel ventilated barns, which instead of curtain side walls, they have big fans at the end that stuck air through."

This picture isn't as hopeful for all livestock producers. Pork producers are preparing for steep losses.

"As long as there are high commodity prices, if you're buying feed, it's going to be very difficult to have profitability," says Paul DeBriyn, CEO of AgStar Financial.

This makes Olthoff even more grateful for a profitable year. Despite surviving 2012, as a farmer, she knows there are still many hurdles ahead.

"Disease is one of our biggest concerns," says Olthoff. "We try to use biosecurity to minimize any disease entering the building. And then also, jus try to use the best management practices to make sure our turkeys are healthy, and they're not stressed and not susceptible to disease."

The necessary antibiotics, however, are becoming harder to get, and supplies have been limited.
Olthoff says she believes communication is key, educating generations removed from farming about how animals are raised, and why tools like antibiotics are so essential to the health of the birds.

Through her blog, transparency is her goal, realizing that may play a major role in helping save the future of her family's farm.

"So, I became really sensitive and concerned about that," she says. "And that's one of the reasons I started blogging about our farm is to share how we do things, and how we make decisions on our farm, so people know we're making educated decisions. We have food safety and interests as one of the big things we take into consideration."

Olthoff says she knows educating the public is a constant struggle, but believes it's an action many producers need to take.