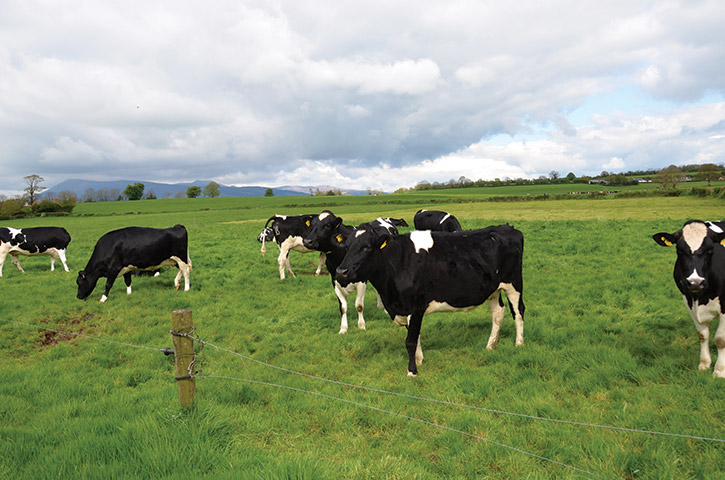 Ireland gears up to be a bigger player in global markets
---
Editor's note: Jim Dickrell traveled to Ireland in early May at the invitation of Enterprise Ireland, a quasi-government, business development promoter. The Irish government is working with industry to promote investment in dairy ingredient processing and food manufacturing.
---
Richard Coughlan might be the perfect posterchild of the new, aggressive Irish dairy farmer. As a third-generation dairy producer who farms on ground bought by his grandfather in the 1920s, he milks 110 British Friesians and stocks 160 beef cows on 320 acres.

That is soon changing. Coughlan (pronounced caulk-lan) is breeding more heifers and planning to expand milk production by 50% over the next five years.

The reason: European Union milk quotas, in place since 1983, will dissolve on March 31, 2015. Coughlan plans to be among the first wave of Irish dairy producers taking advantage of unfettered production and strong world markets.

Irish farmers see a world of opportunity ahead with $22 to $24 milk prices, total production costs of $18 per cwt. and cash costs just a fraction of that. Survey after survey, conducted by their dairy co-ops, shows Irish dairy farmers plan to grow milk output 50% to 60% by 2020.
Richard Coughlan plans to wind down his beef herd and expand his dairy operation to 150 cows by 2020.
---
Coughlan farms in south-central Ireland, just west of Mitchelstown in County Cork. His plan: "I'll wind down the beef herd because of poor margins (2013/14 was disastrous) and gradually grow the dairy herd to 150 cows in five years," he says.

And he'll do it at very little cost. First, unconstrained by quota, Coughlan will be able to push for more production by feeding more concentrate. Because of quotas, he now only feeds 4½ lb. of concentrate per cow per day.

He'll likely feed more grain at both the beginning and end of lactation (the time when grass, his primary ration component, is less abundant and energy dense). More grain should increase his rolling herd average from 15,400 lb. to more than 18,000 lb.

He's already breeding for more replacements, using high-indexing Friesian semen to produce more heifer calves. He kept 10 2-year-old heifers that failed to conceive in time for this past grass season. They'll calve as 3-year-olds, but with abundant grass to feed them, it's cheaper than buying high-priced replacements.

Parlor capacity isn't a concern, either. Coughlan milks in a double-10 Dairymaster swing-over parlor. Even though it has just 10 milking units, Coughlan and an employee can milk his 110 cows in less than an hour. Adding 40 more cows will add less than 30 minutes to that routine.
---
Bonus Content
More on Ireland's expansion plans
---
Co-op officials, economists and university dairy specialists confirm that Coughlan's plans are mirrored by a good portion of Ireland's 18,000 dairy farmers.

Ireland's total milk output on a global scale is modest (1% of global output—comparable to Pennsylvania). So increasing its production by half in the next five years will likely account for just 10% of the growth in world markets that are expected to grow another 55 billion pounds in that same time.

Even so, Irish dairy processors will need to gear up. Because Irish milk production is based on grass, milk flows in May and June, when grass is at its peak, and can be seven to nine times higher than in winter. That means processing capacity must be over-sized by 40% or more to meet that peak flow.

With more grain feeding, processors hope part of the likely increase in milk production will come in early spring and late fall. That should smooth out milk production and processing flow. Each processor is taking its own tack in gearing up for the extra milk flow.

Glanbia, which processes about a third of Ireland's milk, has already modernized many of its plants. The company's big push is a new 6 million-pound-per-day milk powder and infant formula plant it is building on Ireland's southeast coast near Belview.

The plant will open next year and is expandable to 9.5 million pounds per day if production growth warrants it. "All of this extra production will be exported to global growth areas," says Sean Molloy, Glanbia's director of strategy.

To ensure a growth in milk supply, Glanbia is offering dairy farmers fixed margins for up to three years at a time. The plan involves contracting with end users and buyers of Glanbia's dairy ingredients, and then linking those contracted prices back to the farmers. So far, about half of Glanbia's farmer patrons have signed up for the contracts.

Dairygold, the largest farm cooperative in Ireland that markets 18% of the country's milk, has taken a different approach. It has modular expansion and modernization plans, which allow it to grow processing capacity as milk production increases, says Jim Woulfe, Dairygold CEO.

The plan is to invest about $40 million each of the next five years. In 2011, Dairygold could process about 9 million pounds of milk per day. By 2020, the plan is to process about 16.5 million pounds per day.

Last year, it boosted its cheese processing capacity by 1.2 million pounds per day. This year, it bumped its drying capacity by 1.6 million pounds per day. In 2015 and 2016, it plans to add another 2.4 million pounds of drying capacity and could do so again in 2017 and 2018 if the milk supply supports it, Woulfe says.

It, too, is offering farmers contracts. These don't guarantee margins, but farmers are eligible for year-end bonuses if they produce the milk volume they say they will. Last year, those premiums were roughly 30¢ per cwt. or $50 per cow. Nearly 97% of the Dairygold's 2,950 milk suppliers have signed up.
A 50% increase in milk production in five years might seem like a daunting task for any country. But here's the wild card: Just 20% of Ireland's pastures feed dairy cattle.

"There is significant expansion potential in this country," says Trevor Donnellan, an agricultural economist with Teagasc, Ireland's equivalent to USDA.

"Our average concentrate usage is just a metric ton per cow, so increasing grain feeding is an easy way to increase production," he says.

"Bankers are also willing to lend because they look at dairy as a safe haven versus other small business loans. But they are stress-testing higher interest rates."

So borrowers will have to prove they can cash flow. Dairy farms, to their credit, have strong equity positions. Most are legacy farms that have been in families for generations. Current land values are $10,000 to $13,500 per acre without subsidy rights. Those rights can tack on another 5% to 10%. Expansion could be limited as land prices approach $15,000 per acre. Land rents are typically in the $100- to $120-per-acre range.

Labor could be a problem as well. Wages are about $16.50 per hour and climbing higher as the Irish economy rebounds from deep recession.

Ireland's other major challenge is logistics—getting milk to processing plants and finished products to port. Incredibly narrow, hedge-lined county roads and congested, centuries-old villages can create gridlock—even on a weekday morning. Poorly marked construction detours can flummox even native-born drivers.

Ireland's lofty expansion plans will undoubtedly meet some bumps in the road. But the Irish are doing everything in their power to navigate the potholes and deliver more dairy products to a hungry world.