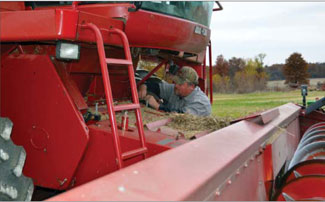 Stabilize machinery expenses with scheduling, leases and more
In 2015 and beyond, change will rumble across the countryside in the form of massive frames, beefy tires and technology-outfitted cabs. The sound of tractors and combines will be the same as in any other year. Yet the farm machinery might well be older, better maintained and financed differently than in the past.

"It looks to me like the best way for a producer to make more money is to be more efficient," explains Brent Judisch, an Iowa corn and soybean producer who also works for John Deere dealer network P&K Midwest in Waverly, Iowa.

With commodity prices down and crop supplies high, more farmers will head to the shop to find ways to make machinery go farther. Additionally, producers will increasingly consider buying used equipment and financing machinery versus buying machines outright. 

"Past assumptions of value mean nothing," explains used equipment values expert Greg Peterson, more commonly known as Machinery Pete. "We are in a fluid environment. Used values are in flux."
Uncharted Waters. Producers find themselves in "uncharted waters," Peterson says. Farmers spent the past six years buying both new and used equipment at historically high levels. The earlier high-buying period resulting from strong and rising commodity prices lasted just two years, from 1996 to 1997. Going forward, producers can expect a re-telling of the period from 1998 to 2003—in which used values and auction sale prices fell—with two big caveats.

"Individual equipment items are so much higher-priced now," Peterson says. "A percentage drop in value on a $270,000 item is a different deal than the same percentage downturn on what was a $100,000 item back in 1998 to 2003." 

Additionally, it's impossible to predict how producers will react if the Section 179 deduction is not renewed at the $500,000 level. For the past 12 years, auction prices rose during the fourth quarter as farmers sought to minimize taxes with the write-off. Take inventory of what your farm will need in the next several years, Judisch says. Large farms earmark certain years for specific purchases against a list of priorities. 

"We'll do two- to three-year budget plans," he explains. "They might move purchases ahead in a good year. In a bearish market, they'd say, 'It might be nice to trade a 2,000-hour tractor, but it'll last another two years.'"
Make Smart Purchases. Many times, your CPA should be involved in the machinery discussions to maximize savings, Judisch says. 

Also, time your purchases of machinery, tires and components carefully, adds Loren Block, marketing manager, Dawson Tire & Wheel in Gothenburg, Neb. After the growing season ends, dealers are often prepared to make discounts

"Fall is a good time to add pivot tires," Block says. "Sprayer tires need to be ordered at the same time you're preordering a sprayer—from about May to June or in the fall before the winter and spring rush. Selection and availability will be better at this time rather than waiting until just before the tires or rims are needed." 

There's also no shame in farming with older equipment. Numerous manufacturers are introducing incentives to buy used machinery. 

Claas has the Lexion Field Ready Reconditioned program for 700 and 500 Series Lexion combines with up to 2,500 engine hours, including a 75-hour protection plan following a 250-point inspection and review of engine and hydraulic oil samples. 

The AGCO Certified Pre-Owned program is available for qualified Challenger and Massey Ferguson high-horsepower tractors and Challenger, Massey Ferguson and Gleaner combines. It includes extended service coverage and certified inspections of 100-plus points for tractors and 200-plus points for combines. Units that are part of the program can also be upgraded to include the latest Fuse Technologies AgCommand product.  

John Deere has introduced its Certified Pre-Owned Equipment program, enabling producers to trade up to later model machines with new technology. It has a comprehensive protection plan, inspection, fluid scans and JDLink for tractors and combines. 

In December, Case IH will start selling units as part of its certified pre-owned program featuring inspections, fluid analysis testing, equipment warranty and replacement parts from the manufacturer. 

In January 2015, New Holland Certified Pre-Owned units will roll out with a warranty, comprehensive inspection and more, including late-model CR and CX Series combines and T8 and T9 Series tractors. 

"Certified used equipment programs will offer new buying opportunities, as will the growing number of machinery auctions coming at the end 2014 into 2015," Peterson says. 
Repairs And Financing. Finally, think about ways to extend existing machinery. "With newer equipment on farms, producers might spend less on equipment and more on repairs or maintenance until prices stabilize," Judisch explains.

Leasing equipment should also be on the table, he says. He likens leases to establishing cash rent for a piece of land because the producer knows costs up front. 

The best way to get extra value from machinery is to take the time to explore all available avenues. 
---
10 Factors to Weigh on Leases and Loans
One way to preserve cash flow with machinery is to acquire it using a lease or a loan. Deciding which option is best, though, can be challenging. Here are several tips producers should consider as they evaluate options as shared by the Equipment Leasing and Finance Association.

1. Make A Timeline. If equipment will be used 36 months or less, leasing is likely preferable. Machinery used for a longer period is a good candidate for either form of financing.

2. Set A Budget. Consider how much you'll pay each month for the equipment. Monthly payments generally are lower for leases.

3. Prepare For Upgrades. Leases can act as a hedge against machinery becoming obsolete. Technology can often be upgraded and repairs made during the term. 

4. Consider The Contract. If a machine can only be used for a handful of tasks, a lease can ensure it will be returned to the owner in a timely way to avoid making extra payments on idle equipment. 

5. Estimate Up-Front Cash. Leases often finance all equipment costs as well as those needed for delivery and training, while loans generally require a down payment and might not include some cost benefits. 

6. Evaluate Depreciation Versus Expensing. Loans can provide a depreciation tax benefit, while the lessor enjoys tax benefits for leased equipment. Leases also allow for payments to be expensed.

7. Weigh Working Capital. Leases can enable a producer to preserve working capital by working with an equipment finance provider, whereas a line of credit through a bank can apply to multiple purchases in addition to equipment.

8. Measure Flexibility. Leases can be structured based on various contingencies, adding flexibility. Loans are subject to a lender's rules. 

9. Look Toward Expansion. If you anticipate growing your business, a master lease can keep terms consistent while creating multiple buying schedules for several pieces of equipment. By contrast, loans must be renegotiated as equipment is added. 

10. Ask An Accountant. Seek the guidance of an accounting professional to determine whether a loan or lease is best and to arrive at the best terms.