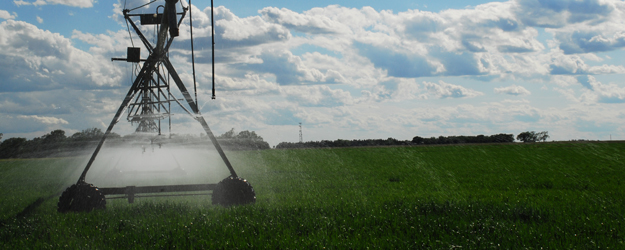 In-Line Irrigation Boosts Efficiency
As farmers battle water shortages and pumping restrictions, T-L Irrigation is partnering with Netafim to introduce a new version of T-L's PMDI (Precision Mobile Drip Irrigation) system. 

The technology combines T-L's hydrostatically-powered center-pivot irrigation systems with the efficiency of drip irrigation for total water efficiency near 95%. PMDI features in-line drip lines spaced at 60" intervals that are pulled through the field by a center-pivot or lateral-move irrigation system. As the hoses are pulled behind the system, emitters, spaced every 6", deliver an even water pattern across the full length of the pivot or linear system. 

"Because the drip lines do not put the water out in the air, the evaporation and wind drift associated with traditional sprinklers is virtually eliminated, putting more water directly onto the soil surface," says Dave Thom, vice president of T-L sales.

T-L teamed with Netafim to provide an improved PMDI version, which addresses water conservation concerns related to drought and the continued problem of dropping water tables.
---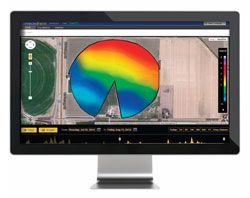 Rainfall Maps Help Conserve Water
Trimble's new RainWave Contour Map allows farmers to visualize and measure variations in rainfall amounts within a field. RainWave complements Trimble's Irrigate-IQ precision irrigation solution. Farmers can use the RainWave rainfall data to direct decisions and create a targeted irrigation application schedule with Irrigate-IQ. The Irrigate-IQ solution uses GPS to remotely control irrigators, create irrigation plans, perform variable-rate irrigation down to the individual nozzle and receive reports, resulting in reduced trips to the field.

Using the RainWave Contour Map, farmers can optimize water use by not running irrigators in areas that received adequate rainfall. It saves time and fuel by eliminating the need to physically check rain gauges. In addition, the rainfall data can guide farmers' decisions regarding the day's planned activities and whether those activities are feasible based on field conditions.

Farmers can access the color-coded rainfall contour maps using a computer, tablet or smartphone via the new Connected Farm Field website. Connected Farm also provides farmers with access to information impacting daily operations including weather forecasts, commodity tracking, field operation maps, fleet management, crop health maps, and irrigation monitoring and control.
---
Education Initiative for Technicians
Reinke and the Nebraska College of Technical Agriculture (NCTA) have announced an educational initiative to provide the latest in center-pivot irrigation technology and hands-on training to students enrolled in the irrigation technician concentration.

The Reinke-NCTA partnership, which started in September 2014 and is based in Curtis, Neb., responds to the demand for skilled technicians and enhances the irrigation technician concentration. The 34-credit program teaches students the skills necessary to be a service technician in the irrigation industry. The program includes courses on electricity, welding, safety, mathematics and communications, as well as a culminating course in mechanized irrigation systems. In addition, irrigation courses focus on best practices for efficient water use and use of key technologies to improve crop heath and yields. 
---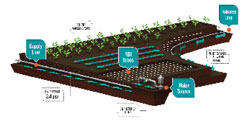 "Because the entire length of tube serves as the emitter, RDI performs very well with dirty water, pits and ponds," says Darren Siekman, RDI general manager.
Root Demand Irrigation Waters From Ground Up
Efficient farming demands attention to underperforming acres. A new irrigation method is designed to offer farmers options and answers. Co-developed by Valmont Irrigation and DuPont and manufactured by Valmont Irrigation, Root Demand Irrigation (RDI) is a low-pressure, subsurface approach using root exudation and plant root signals to release water from polyethylene RDI tubes.

Situated below the root zone, RDI uses porous, subsurface tubes to distribute water. As plant roots secrete chemicals, or exudates, water is released from the tubes as the surface tension changes. RDI is an on-demand irrigation method with the bulk of water stored in the tube system.

"When you're dealing with any type of irrigation—flood, center pivot or subsurface drip—those methodologies rely on the soil to be the main repository for moisture," explains Darren Siekman, RDI general manager. "With RDI, the water is always stored in the tube, and there is an infinite number of pores that allow release of water. The tube doesn't allow gravity or evaporation to take control."

RDI tubing is installed 12" to 18" deep in rows usually spaced 30" apart. Life expectancy is approximately 
10 years. The system is designed for areas between five and 40 acres. 

"Whether in conjunction with pipe, center pivot or drip, RDI is friendly to odd-shaped locations," Siekman notes.

Tubes run up to 1,200' and tolerate elevation changes below 5'. The tubes can be fed with a submersible pump and require operating pressures as low as two psi. Installed with valves, fill outlets and plumbing, RDI is compatible with fertigation and chemigation.

"Instead of turning off, turning on, pushing water or managing irrigation schedules, the low-pressure RDI system can be turned on at the beginning of the season," Siekman says. "At that point, whether it's excessive transpiration or extensive root growth, the figurative arc breaks and water is released."

RDI requires less filtration than traditional drip systems, Siekman adds.

Ideal for corn and soybeans, RDI is in trials on rice, cotton and peanut fields. Initial market releases have been in the Central Plains, but RDI testing is ongoing as far south as Florida.
---
Irrigation By the Numbers